Campagna Cars Canada

---
---
Campagna Coverage
Latest Reviews
I Say
n/a
My speciality is evaluating vehicles with four or even six wheels. Beyond that, I find I'm ill-equipped to make judgement calls. I'll drive a rig and comment before I grab anything on two wheels and blurt out an opinion. What about a self-propelled car-motorcycle tandem setup thing on three wheels with a steering wheel and three pedals? Um, who am I to sell myself short on this one?
---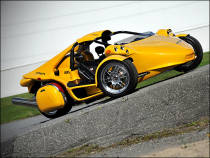 I Say
72%
The T-Rex has been through a lot since our last encounter with it, which was back in the fall of 2007. The manufacturer, called T-Rex Vehicles, went bankrupt a few months later and closed its doors. But today that's all changed.
---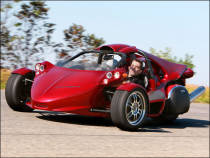 I Say
n/a
If you're a speed freak, here's tangible proof that you don't need a pricey exotic supercar to tattoo a smile on your face and draw attention. You see, the T-Rex is powered by a 1,352-cc, 16-valve Kawasaki inline-4. The engine gets air shoved down its throat by a roof-mounted air scoop, and develops 200 horsepower. Your initial reaction might be to say that it's not enough for hunting down Corvettes and 911s, but one important number needs to be known: the T-Rex weighs only 1,000 pounds, or 455 kg.
---
Latest News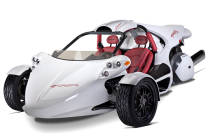 T-REX maker Campagna Motors has just added an upscale, six-cylinder GT model to its lineup. The BMW-powered T-REX 16S is designed to challenge roadster-type luxury sports cars.
---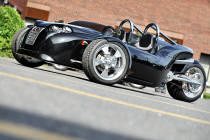 Campagna Motors, based in Boucherville, QC, today announced a long-term strategic agreement with BMW Group.
---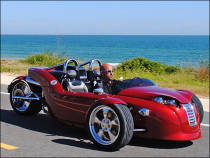 Quebec-based Campagna will soon add a second model to its product line-up. After the T-REX, the company will introduce the V13R, another three-wheeled cross between a car and a motorbike.
---
Latest Pictures
---
Latest Video