The not-so-bright Neon
1995-1999 Chrysler Neon Pre-Owned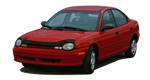 The not-so-bright Neon
Although many know that the Neon became the Dodge 2.0 SX in 2003 and basically remained the same car since its inception in 1995, I thought it wise to divide the decade-long life of the Neon into two distinct halves. In 2000, the Neon received its first major facelift as well as some mechanical improvements. With the new name, the car also received some touch-ups in 2003 that were less considerable than in 2000. I therefore thought it to be politically correct to evaluate the car in this manner.
As I have just mentioned, the Neon first showed its cute smiling face to the World as a very early 1995 (January 1994) replacement to the Dodge Shadow and Plymouth Sundance duo. Rave reviews ensued and Chrysler had hit the bulls-eye perfectly; the car had the most powerful engine in its class and it looked and drove like no other. All was not so well for very long.
Styling
In 1995, the compact car design, generally speaking, was in a sad state. In the Neon's category, cars like the Toyota Corolla, Honda Civic, Ford Escort and Mazda Protegé lacked the look that would make them stand out in a crowd. The same year, the Chevrolet Cavalier and Pontiac Sunfire broke new ground however, the real splash occurred in Chrysler's corner. The Neon was instantly recognizable thanks mostly to its bug-eye headlights and its seemingly smiling front fascia. The shape of the car was rounder and by far more attractive than the slant-nosed box that was the Shadow and Sundance.
When a Neon drove by in the mid-nineties, I clearly remember thinking to myself that this car was something special if only because it looked so different. It had frameless doors, an optional high-output engine that left a bulge in the hood, had available 15" alloy wheels and a trunk mounted spoiler. The red paint job of the tested Neon was very faded. This is quite common but nothing that a good cote of fine wax could not fix.
The interior was also very special. The design of the dash was bulbous; it was very deep much like the dashboard of the Intrepid, it came in towards the front passengers and curved down and away. The layout of the controls was simple and straight-forward and the fit and finish was acceptable. The seats, which could be ordered with a funky material pattern that included ribbons and balloons, offered only a fair amount of support and comfort. What was impressive at the time was the amount of room afforded to the occupants of the car. Whether in the front or the rear, four people would find themselves to be very cozy. Visibility in every direction, save for the rear, is excellent; the widows are large and the pillars, thin.