Popular Cavalier / Sunfire is cheap, easy to fix and fairly reliable
1995-2005 Chevrolet Cavalier/Pontiac Sunfire Pre-Owned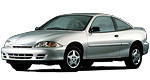 The Chevrolet Cavalier was a common, affordable and simple car that found a home in countless driveways across the continent. Alongside its mechanical twin the
Pontiac Sunfire
, the
Cavalier
enjoyed a long and successful life before it was replaced by the Cobalt in 2005.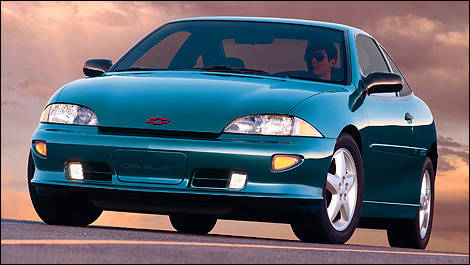 1999 Chevrolet Cavalier
This wasn't a machine that tried to set any records with performance, refinement or materials selection-- but it makes a very popular choice as a cheap used car. Being an older American model, used prices are about the lowest in the market.
The latest Cavalier generation didn't include the V6 engine or wagon variant that were previously available. Still, with sedan, coupe or convertible models, you'll have minimal trouble finding one that's just right for you.
The Cavalier and Sunfire underwent several makeovers and updates, though the underlying premise remained largely untouched. Four cylinder power and front wheel drive was the case in all models-- and several engines came and went during the model's life span. Older machines got a low-tech 2.2 litre unit with 115 or 120 horsepower, depending on the year. This engine wasn't fancy or fast, but it was
decent on fuel
, easy to work on and cheap to fix.
Optional was a 2.4 litre four-cylinder engine with dual overhead cams. It was employed in the sportier 'Cavalier Z24' and 'Sunfire GT' models, and created 155 horsepower. Some owners argue that this is the 'least' reliable engine in the model range, though it is the most powerful.
Later in life, the Cavalier and Sunfire got a new 2.2 litre, 140 horsepower Ecotec unit that replaced both earlier engines. A five-speed manual was standard in any case, and an automatic was available.
Cavalier and Sunfire coupe owners love the styling, relatively sporty dynamics and performance. Owners of the sedan model, conversely, most appreciate the low running costs and overall sensibility. Comfort, ride quality and interior space tend to be left off of the gripe list, though rear-seat passengers in coupe models shouldn't expect abundant headroom.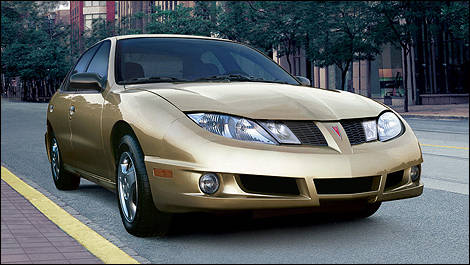 2005 Pontiac Sunfire