Dakota is the size and power leader in the used compact truck scene--but it's got some known issues, too.
1999-2004 Dodge Dakota Pre-Owned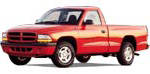 Dodge may not be famous for building the most popular trucks on the road throughout history, but they are responsible for some of the most distinctive. The
Ram
has been a head turner for generations, and its styling language was applied to the smaller
Dodge Dakota
1997.
The smaller Dodge truck fills the larger side of the market when it comes to compact pickups. If you're stuck somewhere between big and small on the used-truck size-scale, Dakota is worth a look. The last-generation model hit the road with a wide selection of engine and body configurations as a 1997 model, which carried on to 2005.
The Dakota range started with a 2.5 litre four-cylinder that created 120 horsepower and 145 lb.-ft of torque. A five-speed stick or four-speed automatic was available here. A 3.9 litre mill with 175 horsepower and 230 lb.-ft of torque was also available with manual or automatic gearboxes. Later in the Dakota's life, a smaller but more powerful 3.7 litre V6 became available, as did 3 V8 engines ranging from 4.7 to 5.9 litres of displacement.
The biggest V8 was reserved for the Dakota 5.9 R/T performance truck. It's a rare machine and only available in two wheel drive, but it was delightfully overpowered and did fantastic burnouts on command.
Four wheel drive was available across the Dakota's lineup, which also included several box and cab configurations to suit a variety of lifestyles and jobs. Shopping used, the Dakota market should have a truck that's just right for you.
The Dakota is a lot of things, but fuel-efficient isn't one of them. Stick to as small an engine as you need, even opting for the four-cylinder model where applicable. Owners typically say that the V6 and V8 engines are plenty powerful, but that they enjoy gasoline a fair bit.
Like all used trucks, the Dakota has some issues you'll want to be on the lookout for when test driving. First and foremost, pay special attention to the operation of the automatic transmission. Shifts should be smooth, clean and quick and fuss-free. Any erratic shifting, clunking, slipping or vibrations from the gearbox are all signs of trouble.