2002-2007 Buick Rendezvous Pre-Owned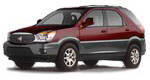 First time I ever saw the Pontiac Aztec in my rearview mirror, I thought I was about to be beamed aboard an alien ship and probed.
A weird looking contraption, it's love-it-or-hate-it styling led to both a loyal fan club and a lot of jokes and dissent from everyone else.
Aztek was a product of GM's platform-sharing wizardry, so a second version of the machine was created with the same eye for utility and uniqueness, but an added taste for luxury and refinement. It was called the Buick Rendezvous, and it may well have been the world's first-ever luxury crossover.
It hit the streets as a 2002 model and continued until 2007- making way for the now-available Enclave model. The so-called "U" platform housed the Rendezvous in several trim levels using Buick nomenclature- starting with the CX as the base model that offered 4 doors, seating for up to 7, and all of the basics.
The CXS designated Rendezvous packed more options, and the loaded CXL model topped the range. Later in the machine's lifespan, the top-line model was renamed "Ultra", adding Versatrak all wheel drive as well as 17" aluminum wheels, a mahogany wood package, and leather and 'ultrasuede' seating for the captain chairs.
Optional on this "Ultra" flagship were features like a touch-screen navigation system, OnStar, and a DVD entertainment system to keep rear passengers occupied and quiet on the go. You may also be able to find a model with a built-in XM satellite radio receiver.
The Ultra designation was eventually changed back to "CXL Plus" and added standard third-row seating. This trim level was then dropped for the machine's final year.
Long story short, if you want a fully loaded and well equipped family hauler that's fit for any weather, the Rendezvous will deliver. Just be sure to ask your used dealer for assistance sorting out the confusing mishmash of year-to-year trim-level changes.
Power came from a 3.4 liter V6 driving the front wheels with a four-speed automatic transmission. It's a simple transmission attached to an even simpler pushrod engine- though fuel economy and reliability were generally decent.