2002 Bentley Continental T Overview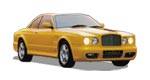 2002 Bentley Continental T - Quick, Agile and Gluttonous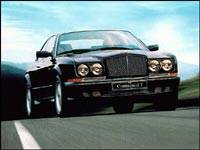 After years of me-too Rolls-Royce copycat designs, Bentley designers were let loose to pen their own distinct coupe. The result was a sensation. Power and grace harmoniously in partnership, the Continental R is in a league of its own within the top-tier automotive landscape.
But of course, even if you have already created the world's ultimate two-door fixed head coupe you've got to find something exciting to keep your engineers occupied. That they did. Enter the Bentley Continental T, dream car extraordinaire. It's an extremely low limited production, ultra-high performance variation on the already nominally produced Continental R coupe.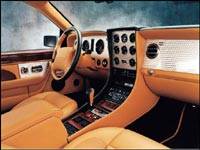 Its gracious lines are kept relatively intact, other than the loss of 102 mm (4 in) of wheelbase to improve handling. Still it's anything but diminutive at 5,222 mm (17 ft 1.6 in) in length. Bentley also lowered the suspension, offsetting what could have been a stubby appearance while reducing the center of gravity for better balance. A firmly tuned ride-height adjustable suspension with increased track also aids in handling dynamics, further enhanced by 285/45R-18 inch tires mated to alloy wheels. The T's steering rack ratio has been reduced from 3.1 in the R to 2.7 turns lock to lock for more immediate turn in.
According to Bentley the massive disc brakes are at each corner are capable of stopping the big coupe from 161 km/h (100 mph) in 4.96 seconds, repeatedly. Impressive. How do they accomplish this? Carbon content has been added to the extremely large brake pads to increase cooling efficiency while the rotors are likewise larger as well.