2002 Ford Thunderbird Road Test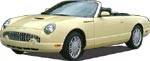 2002 Ford Thunderbird - Yesteryear's Style with Today's Substance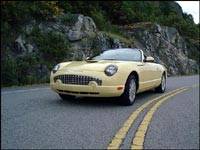 Although I'm too young to have fallen in love with the original Thunderbird when it stole the hearts of man, woman and child in the mid-50's, I fondly remember falling for both a white-on-white 1956 T'Bird and a stunning Suzanne Somers in George Lucas' 1973 classic movie, American Graffiti. Ford has re-ignited this baby-boomer love affair by introducing a thoroughly modern interpretation worthy of such an American icon.
Worthy? Oh yes! Although it has been five years since a
Thunderbird
was available in a Ford showroom, the new car makes everything since the original a distant memory. While Thunderbirds of the 1960's were cool, it's hard not to forget the 1970's, when a T'Bird was little more than a badge-engineered Lincoln Continental - a large, overweight luxury model completely out of touch with the original designer's vision. The euro-inspired 2+2s from the 80's hit closer to the mark, but still didn't incorporate the soul of the 1950's masterpiece.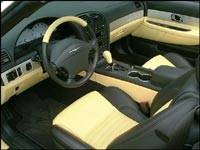 The latest T'Bird leaves them all in a cloud of proverbial dust. From its subtle hood scoop atop a long sweeping hood gently sloping forward to its classic chrome eggcrate grille above circular fog lamp surrounds, the T'Bird quantifies style. Retro design cues continue along its sculpted front fenders adorned with chrome slats mounted just below the reverse wedge belt line that finishes at classic round tail lamps. Incidentally, a turquoise Thunderbird badge graces the rear, as on the original. But Ford declined affixing the blue oval beneath, as it "looked like a bird laying an egg."