2003 Chrysler PT Cruiser GT Turbo Road Test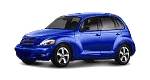 2003 Chrysler PT Cruiser GT Turbo - GT Cruisin'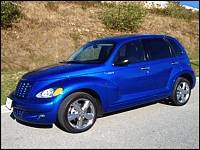 This particular GT Turbo's Electric Blue Pearl Coat paint sparkles off of the chromed 17-inch 5-spoke cast-aluminum rims. (Photo: Trevor Hofmann, Canadian Auto Press)
Who hasn't noticed the
Chrysler PT Cruiser
since it blew onto the scene in 2000 as a 2001 model? It's probably the most distinctive vehicle on the planet. While the styling has often tried to seduce me I have to admit to a loyalty toward Asian-made cars. But, don't tell my friends, I've been corrupted. After a week with the new PT Cruiser GT Turbo my loyalties could change?
The first thing that attracted me was its Electric Blue Pearl Coat, the way it reflects off of the chromed 17-inch 5-spoke cast-aluminum rims especially. All-season P205/50HR17 tires wrap around the wheels, making the most of its sport-tuned suspension, an elegant combination of class and sport. The PT Turbo is a real eye-catcher, or as a random person on the street commented, "She's a beauty," making reference to the car, not me!!!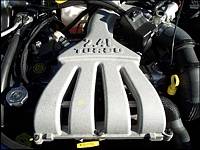 The GT Turbo's 215-hp 2.4-L 4-cylinder engine produces a neck-snapping 245 lb-ft of torque, a perfect mate to the 4-speed AutoStick equipped automatic transmission - a 5-speed is standard. (Photo: Trevor Hofmann, Canadian Auto Press)
Not only is the car a beauty, it is stocked full of personality, or should I say power. The 2.4-L 4-cylinder engine makes 215-hp. Its 245 lb-ft of torque comes on at 3600rpm, with more than 90% of peak torque between 2300 and 5000 rpm. Now that's a solid dose of muscle for a 4-cylinder.
A lot of fine detail went into its design too. The grill blends in perfectly with the surrounding bodywork, the color-keyed bumper, halogen headlamps and fogs. Each component adds an individual statement to the front end styling, while not drowning out the overall design. Occasionally I see vehicles with mismatched combinations of frontal features, not the case with the PT.