Used Pacifica a stylish crossover pioneer, but inspect thoroughly before buying
2004-2007 Chrysler Pacifica Pre-Owned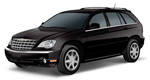 Back before the term 'crossover SUV' became a household name, a few pioneers cleared the way for the breed of machinery that's now flooding the market and trying to take over the universe.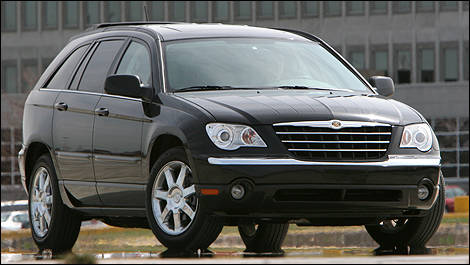 2007 Chrysler Pacifica Limited
It's strange, but just as the crossover SUV market really started heating up, one of its original players gracefully bowed out of it. The
Chrysler Pacifica
started production in 2004 and would end its life as of a late 2007 announcement that the model would stop dead in its tracks. Pity too, as the Pacifica had just been updated.
Owners tended to rate the machine's comfort, performance and driving dynamics the most highly, and the most common owner complaint seems to be gas mileage. General consensus is that the Pacifica is a comfortable, solid, safe machine that's nice to drive, but that it's also a bit heavy on fuel. To minimize consumption, consider a front-wheel drive version as opposed to all wheel drive if possible.
Expect to find hardware like dual-zone climate control, a sunroof, antilock brakes, tire pressure monitoring, and a full complement of airbags-- depending on the year you're shopping in. A 200-watt Infinity stereo system, security alarm and steering-wheel mounted audio controls could be had too.
Inside, you'll also find flexible seating and storage for up to 6 passengers and their gear. The interior is handsomely styled, perhaps even ahead of its time. Metallic accents, wood trim and leather all combined for an upscale and bright atmosphere.
Many owners use their Pacifica as a shopping, sporting or social tool without issue, and a suite of available dealer accessories is available for customization.
Under the hood, you'll find one of three engines depending on the model year. The 3.5-litre, 250 horsepower V6 was a popular choice that carried over from previous Chrysler models. This engine delivered plenty of jam and came with a four-speed automatic transmission with 'auto-stick' manual mode shifting.
Be sure to listen to the engine start up cold, if possible. Any excessive ticking noises from the top of the engine might indicate a problem with its valves. Ask the former owner if they ever experienced or fixed this problem.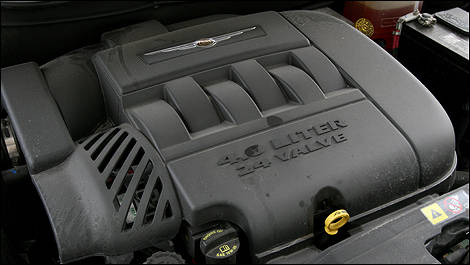 2007 Chrysler Pacifica Limited