2004-2008 Chrysler Crossfire Pre-Owned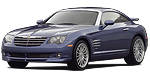 With spring comes a welcomed change from cold, snowy, overly-salted roadways covering most of Canada. With spring comes the warm-weather driving season--a time of year where lucky, free-spirited motorists hit the streets in their sexy coupes and convertibles.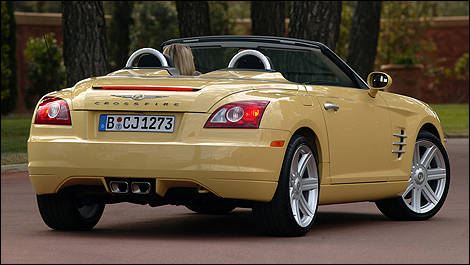 2004 Chrysler Crossfire Roadster
If this is your year to join them, there are plenty of models to choose from. Machines like the
Mazda MX-5
or
Nissan 350Z
are relatively affordable in the used market, though exotics like the
Corvette
, Porsche 911 and Acura NSX are available too.
The Chrysler Crossfire sits somewhere in between--though perhaps closer to the reasonably-priced side of the coupe / roadster spectrum. This German-derived model consisted of a re-paneled Mercedes SLK with a Chrysler badge, several tuning improvements and a cloth or fixed roof.
The standard Crossfire hit the road in 2004 with a proven Mercedes 3.2-litre, 215-horsepower V6 engine connected to the rear wheels by a five-speed automatic or six-speed manual. Later in Crossfire's life came the evil twin: a tweaked-up, supercharged SRT6 variant which belted out 330 horsepower. A five-speed automatic was the only gearbox available on the SRT6, which shared its engine with the Mercedes SLK320 AMG. Look closely under the hood and you'll see the AMG badge on the Crossfire's supercharger. Note that the Crossfire SRT6 is a giggle-eliciting riot to drive.
Depending on the year and model in question, you'll find an automatically-deploying rear spoiler for additional downforce and wow-factor, as well as an Infinity Modulus stereo, a 6-CD changer and available factory navigation. The interior also boasts a generous amount of storage, as two-seaters go.
Owners tend to be most satisfied with the Crossfire's cabin proportions. It's relatively simple to enter and exit, and doesn't feel overly tight for those of average or even slightly above-average width. Taller folks may find their knees engaging the dashboard once they're seated, though.
It's a machine well set up for many mature buyers. In either basic or SRT6 trim, Crossfire is far from the ultimate driver's car in its marketplace, though it achieves a balance between sportiness and comfort that make it touring-ready and everyday-usable.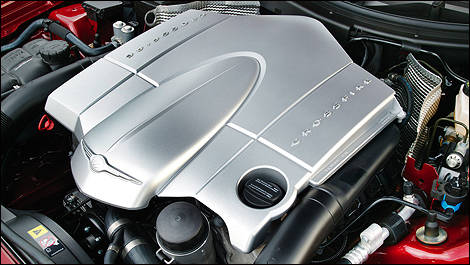 2004 Chrysler Crossfire