2006 Lincoln Zephyr Road Test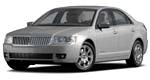 More Than a Jazzed-Up Fusion?
Lincoln, the aristocrat of domestic luxury car brands, is tapping into new markets with the introduction of its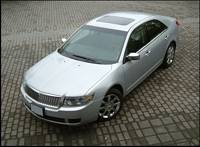 Lincoln wants us to change the way we think of American luxury. (Photo: Rob Rothwell, Canadian Auto Press)
mid-size, front-wheel drive, V6-powered sedan. Readers familiar with Ford's product family will note the similarity between the
Fusion
and the
Lincoln Zephyr
. Why? Well, in root-form they are the same vehicle, arising from a shared chassis architecture and drivetrain (V6-equipped Fusion) - but that's where the similarities end. Once the two vehicles diverge conceptually, the Zephyr morphs into a sophisticated luxury car while the Fusion goes on to fulfill automotive needs more mundane.
I have a lot of time for premium mid-size rides such as the Zephyr. They provide comfort, refinement and quiet solitude while remaining agile and easy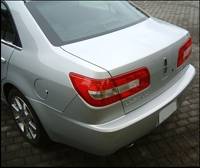 Definitely not a land-yacht of yesteryear. (Photo: Rob Rothwell, Canadian Auto Press)
to maneuver, unlike the land-yachts of yesteryear. The smaller luxo-cruisers - many of which are V6-powered - are also easier on
fuel
, the golden nectar of the industrial age. It was with such preconceived notions that I eagerly accepted the keys to this week's tester, which interestingly enough follows on the heals of a Ford Fusion I recently road tested (see Sunday's review). Putting the two buggies side by side is somewhat of an "apples to oranges" comparison, yet I can't help but do so given that my Fusion test unit was a top-of-the-line version, bringing its MSRP within striking distance of the Zephyr's opening bid.
A loaded V6 Fusion will top-out in the range of $33,413, where the entry-level Zephyr,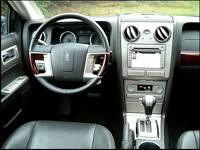 That's a lot of style and sophistication for $36,999. (Photo: Rob Rothwell, Canadian Auto Press)
which is similarly stacked with goodies, starts at $36,999. That's a difference of $3,586. So, this in mind is the Lincoln's cachet and its more polished performance worth the extra three large that separate the price tags? You be the judge. Having thoroughly evaluated each vehicle during my road tests, I would dumpster-dive for returnable bottles and tins to come up with the extra currency needed to hang a Lincoln key on my ring rather than that of a Fusion. In addition to its considerably more attractive interior and exterior styling, at least to my taste, Lincoln's smallest offering dishes-up a more supple and refined ride than the Fusion without sacrificing the worthy handling dynamics of its shared chassis architecture.
I was more than pleased with the smoothness found in the Zephyr's ride and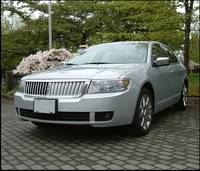 The Zephyr offers midsize buyers considerably more attractive interior and exterior styling than the Fusion, at least to my taste. (Photo: Rob Rothwell, Canadian Auto Press)
drivetrain. Parent company, Ford, has worked hard to bring the venerable 3.0-litre (182 cu in) V6 into the refinement ballpark of engines supplied by premium marques such as Lexus and Acura. No, they're not in the dugout yet, but they play in a park nearby. The spry, variable cam-timing-equipped Duratec 30 conjures-up 221 horsepower at 6,250 rpm and 205 foot-pounds of torque at 4,800 rpm. Its punch flows through a smooth shifting 6-speed automatic transmission, sans a manual-mode feature. Although the absence of a manual-mode may disappoint some, it's really not necessary in this class of vehicle. Driving the Zephyr is all about comfortable, carefree motoring; not hot-footed speed-mongering through curves and up hills; not that the Zephyr isn't capable of such.