2007 Chevrolet Avalanche Towing Test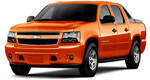 What we're looking to validate here is the convenience and easiness of towing with the Chevy Avalanche. This kind of evaluation is a complement to our regular road tests. Our tester was a base 2007 Avalanche LS with 4-wheel drive; its FlexFuel Vortec 5.3-litre V8 engine runs on gasoline or E85 and is mated to a 4-speed automatic transmission.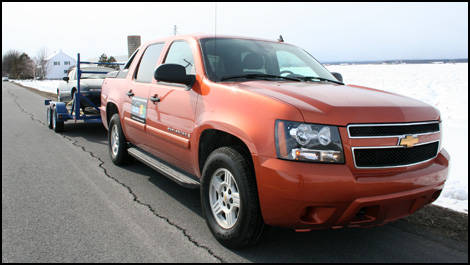 This kind of test allowed us to fully appreciate the capabilities of the Avalanche.


Storage flexibility and safety
One the great qualities of the Avalanche is the versatility of the bed-cabin combo. Sure, the tailgate is heavy and the various bed panels require quite some time to unlock and arrange, but the flexibility provided by GM's Convert-A-Cab system is totally worth it. In my case, the system also served as protection for all my gear (tires, tool box, tanks, etc.). In addition, the 60/40 split-folding bench allowed me to accommodate one rear passenger while benefiting from good cargo room for my equipment.
Securing
With the panels and tailgate in place, visibility is non-existent. Securing a trailer requires help from somebody or a good 15 minutes to perfectly align the draw bar with the trailer coupler. With a colleague of mine, we completed the operation in less than 5 minutes. The 7-pin sealed wiring connector (for the brake lights) is conveniently positioned but hard to connect.
Reverse
Visibility is excellent when backing up with a trailer. I loved the 4WD system as we were in the snow; it also offered a comfortingly smooth ride. Meanwhile, the flexible and precise steering makes this kind of maneuver easier. It came in quite handy since I had to back into a narrow driveway to pick up a Miata.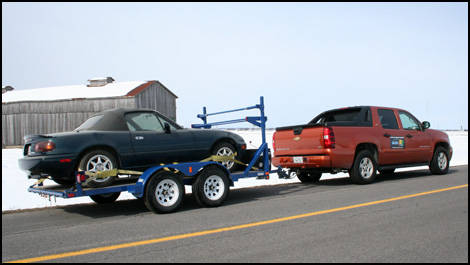 The 4WD Avalanche starts at $42,230.