The party's over
2008 Hyundai Entourage GLS V6 Review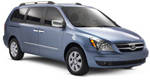 Many people are predicting the extinction of the minivan. However, to believe the good people at Hyundai, the opposite is true. While Ford and GM are slowly pulling out of this market, giving the
Dogde Grand Caravans
, the
Honda Odysseys
and the
Toyota Siennas
of this world free rein, Hyundai is joining the club with the Entourage.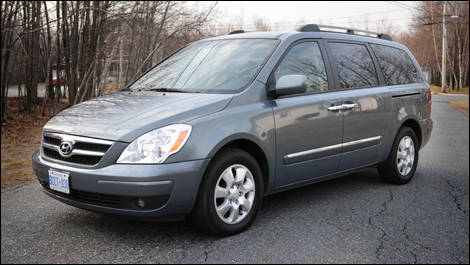 The Hyundai Entourage is a competent family vehicle.
Now that there are no longer any short models available in this category, Hyundai is counting on the generous size of its minivan to attract space-hungry families. Style-wise, the Korean giant opted for a disconcertingly modest approach, giving its vehicle an efficient, but generic, look. If Hyundai wants to stand out from the stiff competition, it needs to endow the Entourage with more flair. However, the quality of the finish is good considering the selling price.
The dashboard is so dated that life in the passenger compartment is almost depressing. This car would have been an instant success in the 90s, but well into the 21st century, a little daring would not have been amiss. The controls are within hand's reach but so sparse that this is hardly an achievement. If you love family-oriented gadgets, this is not the vehicle for you. Contrary to the other models in the category, the Entourage lacks a navigation system, a backup camera and an on-board computer worthy of the name, not to mention satellite radio. On the whole, Hyundai used quality materials but hasn't raised the bar.
Basically, it's the roominess of the passenger compartment that will tip the scales. Passengers in all seat rows will enjoy the ample leg space, and the width of the vehicle ensures that our elbows have as much room to play. It's virtually impossible to feel crowded in the Entourage. This advantage is two-fold, as it ensures passenger comfort on longer trips.
The generous size of the passenger compartment is reflected in the well designed, spacious cargo area, which is even larger when the back row of seats is not in use. The seats are comfortable and equipped with armrests designed for road trips. The driving position is good, even though the "chair effect" is a little too pronounced. The noise level is slightly higher than that of other vehicles in the class but is still moderate.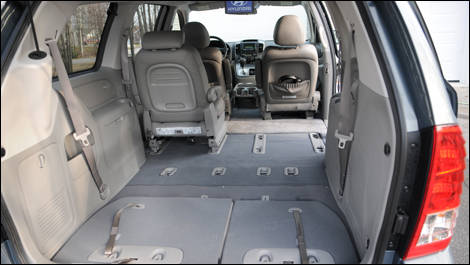 The generous size of the passenger compartment is reflected in the well designed, spacious cargo area.