Space shuttle on wheels
2009 Mitsubishi Eclipse GT-P Review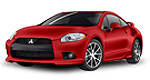 Everything about this car screams power. From its profile straight out of a science fiction movie to its muscular V6 and its stimulating behaviour on the road. Even the impressive rear spoiler gives the impression that at the slightest touch of the gas pedal, retractable wings will spring out of the sides carry this 2+2 away.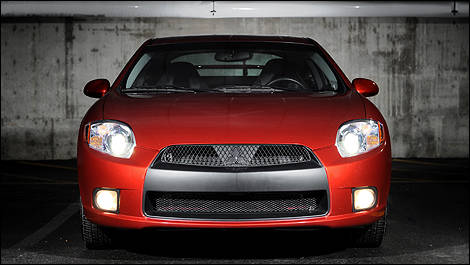 The high-intensity discharge headlamps are one of the new features of the model.
Fear not. The
Mitsubishi Eclipse
GT-P is definitely earthbound. But the fact that we have to rein it in at 100 km/h on our highways emphasizes the anachronism that sets the rules of the road in this country against the modern technological advances of the auto industry.
Who can forget the time when pony cars stampeded across Canada? The triumphant return of the
Mustang
/
Camaro
/
Challenger
trio capitalizes on the nostalgia for those glory days. At the time, no one worried about things like tire grip, power steering precision or suspension and brake efficiency. The word "ergonomics" wasn't even in the dictionary. It was all about chrome and the 0-100 dash – pardon me, the 0-60.
Welcome to the future
The times, they have changed. We invented the notion of political correctness, and motorists learned the usefulness of efficient brakes. A car like the Eclipse now features a slew of passive safety systems (pyrotechnic seat belt pretensioners, air bags, etc.) and advanced driving aids (traction control) that would have been unimaginable mere decades ago.
And its "humble" V6 unleashes as many horses as a good deal of fuel-hungry V8s of days gone by.
And thanks to its tailgate and folding rear seats, the Eclipse even offers a spacious cargo area that can accommodate cumbersome packages like a flat-screen TV. Try fitting that into a Cuda! Luckily, flat-screen TVs didn't exist back then either.
But enough about yesterday. For 2009, the Eclipse benefits from a lightly refreshed outline. New front and rear shields, two-toned for my GT-P Coupe tester, set the new crop apart.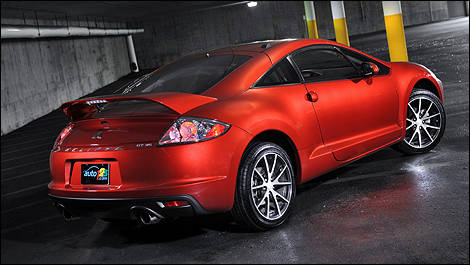 The impressive spoiler topping the tailgate is a new, distinguishing feature of the 2009 GT-P.