A commoner with white gloves
2011 Dodge Avenger SXT Review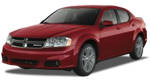 This, as opposed to a plain commoner, of course. This review will not be very positive, I warn you now. I begin with this "statement" if you will, because I'm one to believe that everyone should be given a chance, an opportunity to prove themselves.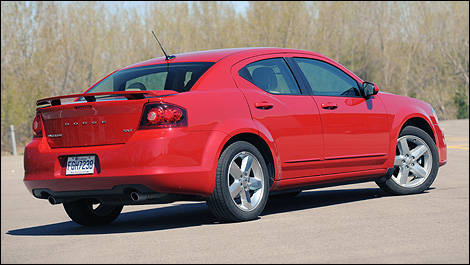 My tested Avenger SXT is attractive by mid-size car standards. (Photo: Matthieu Lambert/Auto123.com)
Chrysler has recently demonstrated that they can put together some rather impressive products, but this is not one of them. And, I understand why. In the last year, I've driven the new
Jeep Grand Cherokee
and the
Dodge Durango
, to name a few, and both proved to be quite good. It is very clear that Chrysler chose to invest more in their trucks than their cars. The Chrysler 200 and Dodge Avenger duo are my case-in-point.
To be fair, it's not all negative. My tested Avenger SXT is attractive by mid-size car standards. It's far easier on the eyes than a Toyota Camry, Honda Accord or Ford Fusion but unlike these three, regardless of how you look at it, the Avenger still looks like a rental. I am cruel, say it, but I do call'em like I see'em.
Sliding aboard, I can say that Chrysler has managed to seriously spruce things up. The cabin is nice, far better than previous, and lends credence to the fact that Chrysler did and does listen to its customers and critics.
The new dashboard flows in a conservative fashion with a simple ergonomic design. Better than that, fit and finish as well as materials are light-years ahead of where they were until very recently. Kudos also to the seats, which are fairly comfortable, and to a decent second row which will accommodate two regular adults.
The other most notable change to the Avenger, some would call improvement, is the ousting of the old 3.5L V6 and replacing it the home-grown Pentastar 3.6L V6. This engine is now a very common yet strange fish. As I noted, I have reviewed the Grand Cherokee and Durango and both were motivated by the 3.6L. In the GC, I found the power adequate and fuel consumption acceptable. As for the Durango, it felt as though it was dragging an anchor and it swigged a whole Hell of a lot of petrol. In both instances, though, the Pentastar was refined and docile. I think it may have had something to do with the weight of the trucks.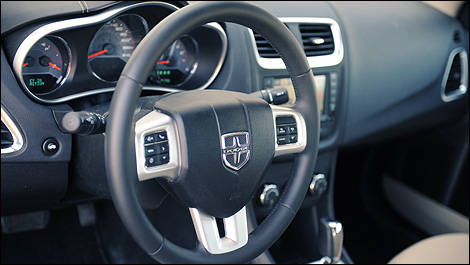 The new dashboard flows in a conservative fashion with a simple ergonomic design. (Photo: Matthieu Lambert/Auto123.com)