We go full family-friendly
2013 Minivan Comparison Drive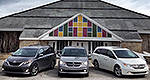 Succumbing to the need for a minivan doesn't have to mean relinquishing your manhood and everything that makes you an interesting human being. Seriously. "Minivan" is almost as dirty a word as "station wagon," when it comes to family vehicles, but it doesn't have to be. Just because you need a practical, seven-seater-plus ride with plenty of cargo space and amenities to the nines doesn't necessarily mean you have to skimp on performance, driveability and vehicle appreciation.
Our latest comparison drive proved just that. Minivans can be cool, even fun to drive, and there are a few viable options out there, even for the most discerning minivan shopper. From the go-to, has-everything-for-a-great-price model to one that could carry a prestigious badge, there may not be a plethora of options but there
are
options.
Why the urge to do a minivan comparison drive? Well, after looking around the office at the half-dozen employees who actually own late-model
Dodge Grand Caravans
, we got to thinking: What about the others out there? So, we looked to the numbers (as you do); for 2012 minivan sales, the results were staggering. The Dodge Grand Caravan outsold its three competitor's combined sales by nearly 250%.
Add to the fact that two of the comparison drive's three testers have young families and we had the perfect combination for a minivan drive day. Armed with two baby seats (two children under the age of 2), two strollers, two golf bags, and a bike we embarked on the day's drive in the 2013 Dodge Grand Caravan Crew Plus, the
2013 Honda Odyssey Touring
, and the
2013 Toyota Sienna SE
.
Noticeably absent from the drive was the Nissan Quest. Why? Unfortunately, the
Quest
was unavailable on Nissan's press fleet at the time of our drive.
Since the Dodge Grand Caravan has been the bestselling minivan for some time, and is one of the top 10 bestselling nameplates in Canada, we wanted to remind ourselves how good it really was, and given there are so few options out there in the minivan segment, we also wanted to see who came out on top.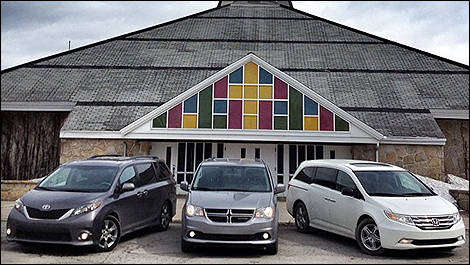 Photo: Olivier Delorme