American luxury
2014 Buick LaCrosse AWD Review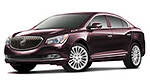 Luxury is a word used to describe many things from hotels to fabrics to treatments at a spa, "luxury" has become synonymous with anything that makes us feel good and pampered.
Buick is a luxury brand. I'm not entirely sold on the idea that they pamper their drivers in every single car, but they make every effort to do just that. Is the LaCrosse super high-end? Not entirely, but it does treat its occupants well, and also offers up a bit of interest behind the wheel for the driver. All in all, not a bad deal.

What is a Buick LaCrosse?
In its first North American iteration (and first generation), the 2005 Buick LaCrosse was known as the Allure in Canada. A full-size sedan, the LaCrosse offered up space and comfort in typical Buick fashion.
Now in its second generation, the latest Buick LaCrosse just had a mid-cycle refresh with interior amenities added and a redesigned from and rear fascia, as the model we see now has been on the road since 2010.
2014 Buick LaCrosse AWD Price and Specs
With four models available, pricing on the 2014 Buick LaCrosse ranges from $35,795 up to $43,655 (base). All-wheel drive can only be had in two of the available trim levels: Leather or Premium I. My particular tester was the top-line Premium I AWD with a base price of $43,655.
There are two engines available: a 2.4L ECOTEC I-4 that's good for 182 horsepower and 172 lb-ft of torque or a 3.6L V6 that pushes out 304 horsepower and 264 lb-ft of torque. Power is handled via a 6-speed automatic transmission for both.
Driving the 2014 Buick LaCrosse AWD
Truthfully, I quite enjoyed my time behind the wheel of the 2014 Buick LaCrosse. The steering, while somewhat vague at times, was more involved than I ever expected it to be. And the 3.6L V6 is content to play. Add to that the AWD goodness in our winter conditions, and really there was very little to dislike in the Buick.
Interestingly enough, the suspension was almost uncomfortable at times. When my father was riding shotgun with me throughout the week he was surprised the Buick didn't feel more "float-y" -- after all, isn't that what a Buick is supposed to be?
In the snow, the 2014 Buick LaCrosse is surefooted and stable. I felt at ease even in some dicier and icier conditions. The size of the LaCrosse is comforting, as is its weight. The somewhat heavy steering helps enhance that feeling of stability.
However, some of that "stability" is lost on the highway, as the steering does become rather vague at speeds.
I did enjoy the aural response of the 3.6L V6 when pushed. It wasn't unpleasant and was a gentle reminder that the vehicle was working hard for you, and actually delivering on that effort.
As far as being a daily driver, and one that's both comfortable and interesting (when pushed a bit), the 2014 Buick LaCrosse checks all the right boxes. Is it for everyone? No. But there is definitely a specific customer for which this vehicle is perfectly suited.

Inside and Out of the 2014 Buick LaCrosse AWD
I am not a fan of Buick designs. I dislike the front fascia and grille, hate the side portholes and always have, and truthfully I find them pretty bland overall in styling. However, I can also see the appeal. I may not like Buicks, but then I'm not the customer who's supposed to.
While the 2014 Buick LaCrosse may be as bland as unbuttered toast on the outside, inside it excels at being the luxury sedan it claims to be. Plush and comfortable, I was never left wanting more from the cabin of the Buick LaCrosse. Room is plentiful, and so are the amenities. Leather trim abounds, and wood trim is also available, and while I'm not a huge fan of said panelling throughout the cabin, I understand the appeal and the upper-level feel it gives the interior space.
Comparing the 2014 Buick LaCrosse AWD
When it comes to upscale midsize sedans that offer AWD, there aren't too many options in the LaCrosse price range. Lincoln's MKZ offers much more in terms of curb appeal and design, and Acura's TSX has the infamous Honda/Acura nameplate loyalty going for it. What makes the 2014 Buick LaCrosse the better pick out of these? Well, nothing specific, but it is a well-sorted vehicle that'll satisfy basic luxury vehicular needs.