DTS looks like a smart luxury sedan buy
Cadillac DTS : Used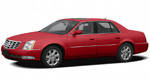 History/Description:
"Big," "soft," "comfortable" and "yacht-like" are all good descriptors for the
Cadillac DTS
. The largest sedan in the brand's product lineup, the stately DTS takes a place above the
CTS
and
STS
in Cadillac's portfolio.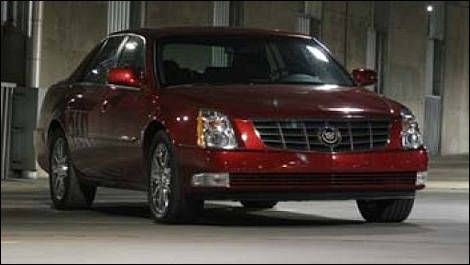 2006 Cadillac DTS (Photo: Auto123.com)
It's popular with mafia types and delegates in black, and moreover, with drivers after a machine devoid of much stimulation or effort while they're at the wheel. If you're after a giant sedan with room for up to 6, as well as a quiet ride, ultra-comfortable suspension and a driving feel that'll leave you wondering if you're in your living room or your car, the DTS might be for you.
Look for plenty of room, standard leather seating, easy-reading gauges, a cavernous trunk (bodies not included), remote access, OnStar and plenty more. Navigation, Bose audio and heated and cooled seats were available on higher-end models. All DTS models got a 4.6L V8 with a 4-speed automatic and front-wheel drive.
What Owners Like:
Most DTS owners say their cars are comfortable, huge, powerful, exclusive and well-equipped. Many appreciate the large trunk and long-haul comfort. Power output is highly rated from the Northstar V8 engine, which makes either 275 or 292 horsepower, depending on the model. Surprisingly, most owners are even impressed with the DTS's fuel economy.
What Owners Dislike:
A floaty and overly soft suspension is the main complaint noted in the DTS owner's community. The handling isn't likely to knock anyone's socks off, either.
Common Issues With A Used Cadillac DTS:
First up, it looks like this generation of DTS is free of the head-gasket issues that were apparent on earlier models with the Northstar V8 engine. Second, GM's 4-speed automatic transmissions are typically bomb-proof.
Translation?
The DTS should prove reliable and durable in the powertrain department.
More good news. The DTS's electronics seem mainly reliable — which is more than can be said for any number of European luxury cars in this era and segment. Test-drivers are still advised to check all cabin electronics though, including the climate controlled seats, stereo, navigation and instrument cluster.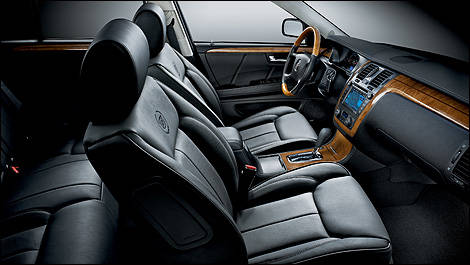 Cadillac DTS 2011 (Photo: General Motors)