Last-gen Accent owners enjoyed fairly reliable operation and plenty of value
Hyundai Accent : Used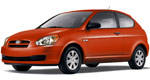 History/Description:
Hyundai's entry-level model, the Accent, has recently been updated and redesigned for the
2012 model year
—leaving the previous generation (2006 to 2011) officially behind in the used car marketplace.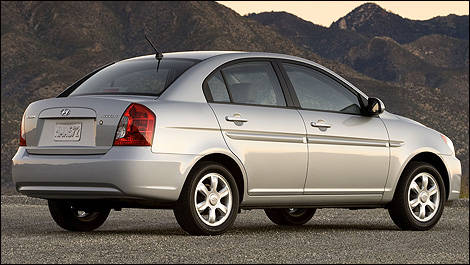 2006 Hyundai Accent (Photo: Hyundai)
Available in 3-door hatchback or sedan configurations, Accent was affordable, thrifty, nice to drive, and surprisingly roomy and quiet. It enjoyed a successful sales life and turned many first-time car shoppers onto the Hyundai brand. Note that this generation of
Accent Hatchback
arrived a year late to market – In 2007, just after the 2006 sedan.
All models got a 1.6L 4-cylinder engine with 110 horsepower. A 4-speed automatic or a 5-speed manual attached it to the front wheels. Feature content included heated seats, auxiliary audio input, power accessories, remote access and more.
What Owners Like:
Most Accent owners rate the styling, spaciousness, ride quality and handling of their machines highly. Many report positively on fuel mileage as well. Performance seems adequate with the manual transmission on board. Good maneuverability and an easy-driving character round out the package.
What Owners Dislike:
A sub-par factory audio system, high highway revs and easily-scratched interior plastics are among this generation of Accent's most common complaints. Some drivers wish for more comfortable seats on longer trips, too.
Common Issues With A Used Hyundai Accent:
Check your used Accent's clutch for slippage or signs of wear, as some owners have reported having to change it early on. If the model you're driving has a manual transmission and exhibits any clutch chatter or slippage, move to another unit, or negotiate for a new clutch.
A check-engine light, also somewhat common, may be caused by a bad emissions system component. Be sure to determine and remedy any check engine lights before agreeing to purchase.
Have a Hyundai mechanic check the underside of your potential used Accent for signs of a leak from the differential or transmission.
Check that all interior features work as expected, noting proper operation from the power windows. If these appear to move slowly or 'chatter' on their way up or down, the window regulator may be on its way out.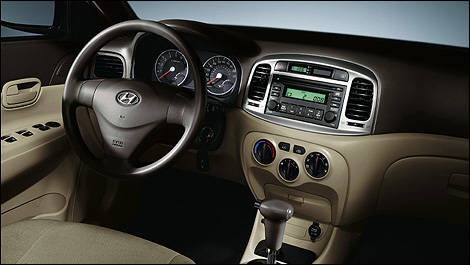 2008 Hyundai Accent (Photo: Hyundai)