RX-8 enjoyed for styling and performance
Mazda RX-8 : Used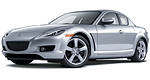 History/Description:
A 4-door coupe with room for the kids? That was the
Mazda RX-8's
premise. And on top of its rare suicide doors and striking looks, the RX-8 also featured a unique rotary engine that delivered plenty of revs. Sharp-as-a-tack handling, track-ready steering and plenty of performance were part of the package.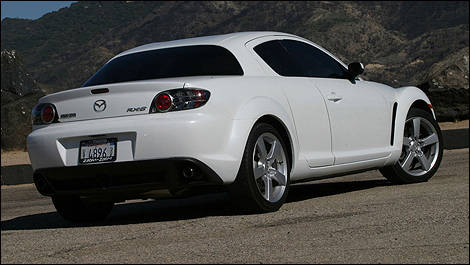 2004 Mazda RX-8 (Photo: Mazda)
Look for this unique 4-seater from model years 2004 to 2011. Horsepower was initially rated at 238 with the 6-speed manual and 197 with the 4-speed automatic. From the 2006 model year, output with the manual gearbox decreased to 232 while a new 6-speed automatic with paddle shifters was introduced, combined with 212 hp.
Look for goodies like Bose audio, heated leather seating, navigation, automatic climate control, an intelligent key system, power accessories, a sunroof and plenty more.

What Owners Like:
Performance, looks, a screaming engine note, manual shifter quality and overall responsiveness are perhaps the most highly-rated aspects reported by RX-8 owners. Many appreciate the rear doors and relatively easy rear-seat access when more than one passenger is along for the ride.
What Owners Dislike:
Limited headroom and visibility are among the most common owner-stated complaints. Additionally, the RX-8, despite its modest power output, is known to be heavy on premium fuel.
Common Issues With A Used Mazda RX-8:
Check the level and condition of the RX-8's engine oil before your test drive. Be sure the seller was fond of frequent, high-quality oil changes. The RX-8 is known to consume engine oil, which may need to be topped up between oil change services.
Check for clutch slippage on manual-equipped models, and note the shifter quality, too. Pay extra attention to any grinding, clunking or harshness while you shift gears. If the model you're driving exhibits any of these, it may be suffering from a worn-down transmission or clutch.
Earlier models exhibiting a lumpy idle or 'misfire' may be suffering from an overheating issue related to the ignition coils. If you experience this issue on a test drive, be sure to have the vehicle inspected to confirm this is the reason why.
Additionally, given the RX-8's unique engine, only a rotary-trained Mazda mechanic should inspect the vehicle. While the car is in the air, the mechanic can also check for fluid leaks, excessive rust or dents and gouges that may have been caused by careless driving over speed bumps or other obstacles. Have the mechanic scan the engine computer for stored codes, too, as these could indicate potential problems. Be sure that tires, suspension and brake components aren't in imminent need of replacement, either.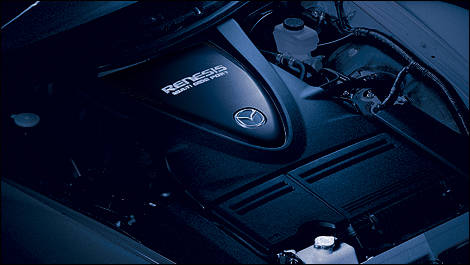 2007 Mazda RX-8 (Photo: Mazda)