CLK enjoyed for power, luxury, looks
Mercedes-Benz CLK-Class : Used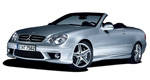 History/Description:
Available in coupe or convertible variants, the
Mercedes CLK-Class
was available to Canadian shoppers from 2003, 2004, 2005, 2006, 2007, 2008 and 2009 before being replaced by the automaker's E-Class coupe and convertible variants. Available with a wide range of engine options and a laundry list of high-end features, the CLK gave its drivers a highly personal and luxurious driving experience.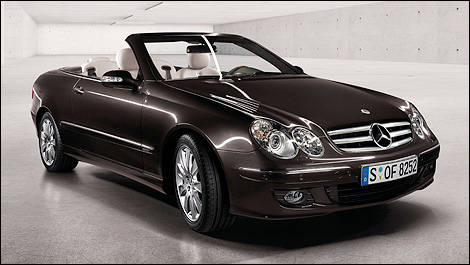 2055 Mercedes-Benz CLK-Class (Photo: Mercedes-Benz)
Look for 6 and 8-cylinder engines with power output ranging from 215 to 382 horsepower in standard models. The CLK's numerical designation represents engine size, with CLK 320, CLK 350, CLK 430, CLK 500 and CLK 550 models packing 3.2, 3.5, 4.3, 5.0 and 5.5-litre engines, respectively.
Not all engines existed at once, since the CLK underwent a powertrain update in 2006 and 2007 to include larger and more powerful engines as well as a new 7-speed automatic transmission.
Look for space for 4 adults, a fully motorized top on convertible models, and a standard array of safety equipment on all models.

What Owners Like:
No surprise here. Owners love the CLK's looks, exclusivity and pride of ownership. Those with the 5.5-litre V8 all rave about quiet, robust and silky smooth acceleration, and many owners report good gas mileage, too. All-around comfort, handling and a world-class driving experience are also highly rated. One owner mentioned how well his CLK appealed to 'women of taste'.
What Owners Dislike:
Owner-stated complaints tend to be minimal, centering around limited rear-seat space for taller passengers, and sometimes-clumsy transmission shift logic.
Common Issues With A Used Mercedes-Benz CLK-Class:
On a test drive, approach the used CLK looking for issues with electronics and wiring. Check for proper operation of anything and everything motorized or computerized within the vehicle—including the stereo system, navigation, climate control and Bluetooth.
Double check for proper operation from all power seats and check the convertible top for smooth operation in both directions, noting any smell of mildew within the car, or any rips or abrasions on the roof fabric.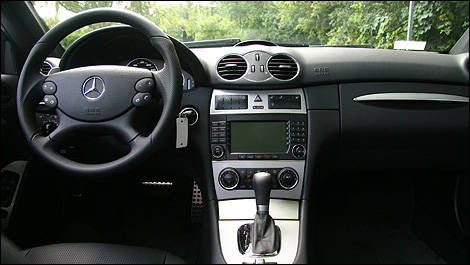 2007 Mercedes-Benz CLK-Class (Photo: Olivier Delorme/Auto123.com)