A new rivalry is born
Subcompact comparison test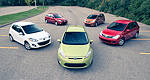 When several major manufacturers unleash a brand-new model in the same category, it's obvious that a comparison test is in order. After all, we all want to know which one's the best, right? Just about every automotive media outlet has or will publish a subcompact showdown, and here's ours.
The two major additions to the small-car class this year are the Ford Fiesta and the Mazda2, who must do battle with the 2010 Auto123.com Subcompact of the Year, the Honda Fit. We also included a Nissan Versa and a Kia Rio5 in the test.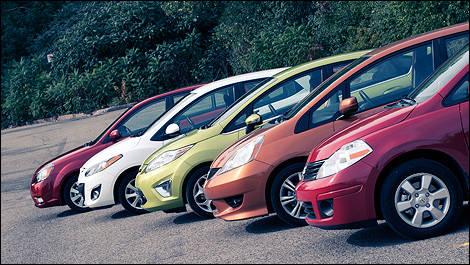 Photo: Matthieu Lambert/Auto123.com
Who's missing? We asked Toyota for a Yaris and a new-for-Canada Scion xD, and got neither one; the xD couldn't arrive on time for the test, and the Yaris was pulled from the press fleet just before our matchup. Hyundai and GM both politely turned down our request for an Accent and an Aveo5, since their redesigns are just around the corner. We excused the Suzuki Swift+ because of its very low sales volume and availability, and the smart fortwo because it's too different and is destined for another type of clientele.
Truthfully, we have our doubts that these absentees would have made it to the podium. A rematch is a must next year, though.
After an extensive session of punching away on the calculator and adding up everyone's scores, here is the final ranking, from least to most favourite.