Daewoo Cars Canada

---
---
Daewoo Coverage
Latest Reviews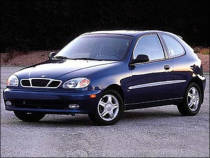 I Say
n/a
The Daewoo brand hit Canadian shores back in 1999 with big hopes of experiencing success similar to that of fellow Korean automaker, Hyundai. Fast forward a tad, and it's pretty clear that it didn't quite work out that way. After a few measly years of selling a small handful of models to us Canucks, the largely unsuccessful Daewoo brand packed it in and hit the road like a rejected Canadian Idol star.
---

I Say
n/a
Daewoo is a Korean automaker that showed up quite discretely last year in Canada. Actually, the name Daewoo was already known but only by a few people who had earlier bought Optimas, a small compact car that was sold by Passeport dealers almost ten years ago. The Optima was based on an older Opel Kadett by GM. But now, all Daewoo cars are?originals! The Nubira was introduced last year as the middle model of the line-up. But the car, offered as a sedan or a wagon, was already three years old.
---

I Say
n/a
In 2000, the Lanos is back, with a choice of two engines : the 1.5 liter on the S Model and the 1.6, standard on the SX version. Esthetics wise, the sedan I test drove shows a both elegant and modern silhouette. Designed all the way by the world reknowned ItalDesign, this car, according to me, is still in fashion. On the other hand, Daewoo probably had better have a specific grill for each model.
---
Latest Pictures