Fiat Cars Canada

Founded in Torino in 1899, Fiat is short for Fabbrica Italiana Automobili Torino, which translates to English as the Italian Automobile Factory of Turin. Since 1910, Fiat has retained its position as the largest vehicle manufacturer in Italy. The brand marks its return to North America through select Chrysler dealers.
Bearing a strong resemblance to the contemporary Benz of the time, just eight copies of its first car were built in 1899. The Fiat 4 (or 3 ½ CV) had a rear-mounted 0.7-litre two-cylinder engine and three-speed gearbox.
Employing 150 workers and producing two dozen cars by year's end, the first Fiat factory opened in 1900 in Corso Dante, Italy. Eight years later, hundreds of Fiat 1 Fiacre taxis were taking fares in New York, London and Paris.
In 1910, a plant licensed to produce Fiats in Poughkeepsie, New York built its first car. Costing between $3,600 and $8,600 at the time, owning a Fiat was a sign of high stature. By comparison, Ford's Model T cost just $825 in 1908.
In 1912, the hulkish Fiat S76 was used for racing and speed record attempts; and, launched the Fiat Zero as the first mass-produced small engine car. By 1917, Fiat's NY factory is closed due to tightening U.S. regulations. After the first World War, a five-floor, 153,000 square-metre Lingotto factory in Turin is completed with assembly lines and a test track on the roof.
With fuel efficiency in mind, Fiat introduced the Tarrifia Minima in 1932. Four years later, the Topolino (Small Mouse) debuts as the smallest mass-produced car in the world with a price tag under $950.
Fiat made military machinery and vehicles during World War II for the Italian army and air force and later for the Germans. In turn, Fiat factories were heavily bombarded by the allied forces. The first post-war Fiat was the 1947 1100S with the smaller rear-engined Fiat 600 family car coming eight years later.
In 1957, Fiat launched what would be its most successful model ever built. The Nuova 500 (Cinquecento) was launched and sold as "a city car" with a half-litre, two-cylinder engine.
In 1960, the 500 Giardiniera (station wagon) got four more inches of wheelbase and saw its engine placed beneath the car for increased storage capacity.
The five-seat Fiat 850 was unveiled in 1964, followed by a seven-seat Familiare model for growing families. After earning European Car of the Year awards for the 1967 Fiat 124, '70 128 and '71 127, the 1972 500 R became the last iteration of the original Cinquecento series. Production of the 500 ended in 1975, although its replacement – the Fiat 126 – had been launched two years earlier.
The 1980's saw the introduction of the spacious and boxy Panda utility vehicle and another European Car of the Year win by the remarkably fuel-efficient Fiat Uno in 1984. Fiat had pulled out of the U.S. market in 1983 due to unreliability, rusting problems and other quality issues, taking Lancia with it.
The 1994 Fiat Punto was named 1995 European Car of the Year, and Cinquecento was reintroduced as a front-wheel drive car. Based on the Fiat Trepiuno concept, Fiat launches the all new retro-looking 500 on July 4th 2007 (exactly 50 years after the original Fiat 500 was released).
Fiat and Chrysler join forces in 2009 with Italian-Canadian Sergio Marchionne as its CEO. The global alliance allows Fiat access to Chrysler's North American dealer network, and selected 58 dealers will initially represent the Fiat brand in Canada. The 2012 Fiat 500 subcompact hatch is the first model offered.
[...]

Read more about Fiat
---
Follow @auto123_fiat
---
Fiat Cars
---
---
Fiat Coverage
Latest Reviews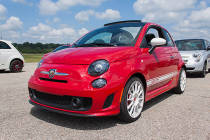 I Say
n/a
Much like Gucci handbags (oh, yes, there's a Fiat 500 Gucci Edition) and GQ Magazine (there's a Fiat 500 GQ Edition, as well), Italy's Cinquecento is an expression of one's visual tastes more so than performance desires, compromising just about everything in the name of form over function.
---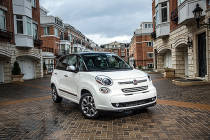 I Say
78%
It's interesting how small cars always end up bigger. They were designed as small cars for a reason, weren't they? Take for example, the MINI Cooper; it eventually morphed into the Countryman, and any hatch that stretches into a wagon is doing the same thing. Why can't we just leave well enough alone and let the littles be little? What we do know is that, unfortunately, not every supersize is done well.
---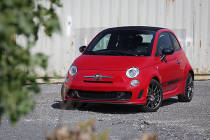 I Say
76%
You know that family member who's always the loudest, always the centre of attention, , talking at the top of their lungs to get everyone to listen in? Yeah, that's the 2013 FIAT 500 Abarth Cabrio: just imagine that family member yammering on with a heavy Italian accent as they tell each sordid, long-winded tale.
---
Latest News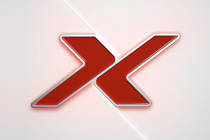 The upcoming Paris Auto Show will feature the world debut of the new Fiat 500X, which shares its platform with the equally new Jeep Renegade and is expected to become the MINI Countryman's new nemesis.
---
Fiat-Chrysler has announced a recall on 29,500 Fiat 500L models from 2014-2015 due to a problem with the knee airbags. Four thousands of those are in Canada, and roughly one third of all affected vehicles are currently on dealer lots, the automaker said.
---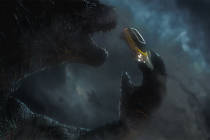 Fiat teamed up with Warner Bros to promote the 500L and the upcoming new Godzilla movie.
---
Latest Pictures
---
Latest Video