McLaren Cars Canada

The McLaren Group has always been involved in auto racing, whether it's Formula 1, IndyCar, Can-Am, Le Mans or another high-profile series.

Originally, professional race car driver Bruce McLaren wanted to leverage his successful F1 expertise to build a road-going model. He therefore developed the M6 GT in 1968-1969.

A single prototype got the green light, sharing its unibody architecture with the McLaren M6. It had a dry weight of 725 kilos and used a 5.7-litre Ford engine producing about 370 horsepower, good for 0-100 km/h sprints in 8.0 seconds and a top speed in excess of 265 km/h.

The tragic death of Bruce McLaren in June 1970 prematurely ended the project after three units had been delivered. It took nearly 20 years before the company launched another vehicle.

McLaren Cars was established in 1989. A year later, a 10-hour executive meeting signalled the beginning of an ambitious venture aimed at selling the fastest, best-handling supercar in the world, with the highest power-to-weight ratio of any production automobile. The goal was also to make it practical and useable on a daily basis.

The result was the McLaren F1, unveiled as part of the 1992 Monaco Grand Prix. Its BMW-developed, 6.0-litre V12 engine generated 627 horsepower and 480 pounds-feet of torque, allowing it to go from 0 to 60 mph (96 km/h) in 3.2 seconds, 0 to 100 mph (160 km/h) in 6.3 seconds, and 0 to 200 mph (321 km/h) in 28 seconds. These incredible performance figures were largely attributable to the F1's light weight of 1,140 kilos.

Nine GTR models specially designed for racing were also created. They went on to dominate the BPR Global GT series and win the 24 Hours of Le Mans.

Late in 1998, the 107th McLaren F1 rolled off the assembly line, wrapping up a short but glorious 6-year run.

Soon after, McLaren teamed up with Mercedes-Benz (its Formula 1 partner) to develop the SLR.

In 2011, the company inaugurated another new model, the MP4-12C. Using a 3.8-litre, twin-turbo V8 engine mated to a 7-speed sequential transmission, the 1,336-kg supercar cranks out 592 horsepower and 443 pounds-feet of torque.

It's now the lone production model in the lineup, although McLaren is still deeply involved in auto racing and particularly Formula 1.
[...]

Read more about McLaren
---
Follow @auto123_mclaren
---
McLaren Cars
---
---
McLaren Coverage
Latest Review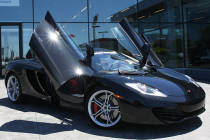 I Say
79%
McLaren is a very well-known name on racing circuits, but will their latest supercar capture the hearts and certified cheques of those who can afford one?
---
Latest News
The all-new McLaren 650S coupe made its North American debut yesterday at the 2014 Vancouver Auto Show after its world premiere in Geneva on March 4th.
---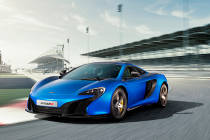 McLaren will officially unveil the new 650S on March 4th at the 2014 Geneva Auto Show, but that didn't stop the manufacturer from releasing the first pictures of this wickedly sexy coupe.
---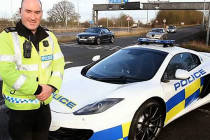 Law enforcement authorities in the West Midlands (U.K.) are following the lead of Dubai police by using exotic sports cars to catch speeding offenders. In this case, it's a McLaren 12C Spider that can reach velocities of up to 333 km/h.
---
Latest Pictures