Volvo's Youthful Compact
2006 Volvo S40 2.4i Road Test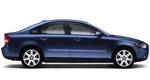 Volvo's Youthful Compact
Five-cylinder engines are still fairly uncommon in the automotive marketplace, the norm being 4, 6 and 8-cylinder variants with 10 and 12-cylinder behemoths reserved for the performance segment. All the "even" numbering would suggest that anything "odd" numbered would run about as smoothly as one-legged dog, yet the 5-banger powering Volvo's compact S40 sedan proves otherwise. As if defying the laws of nature, this 2.4 litre mill smoothly churns-out a respectable 168 horsepower @ 6,000 rpm and 170 foot-pounds of torque @ 4,400 rpm. That's enough to keep the S40 moving briskly from sunup to sunset but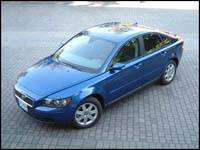 (Photo: Rob Rothwell)
it's by no means sufficient to launch the
The S40 is Volvo's entry-level sedan. It's a front-wheel-drive (FWD) unit, with optional all-wheel-drive (AWD). In terms of size, the S40 is equivalent to the new Honda Civic four-door, however I would argue the Volvo imparts a greater sense of size and substance than does the Civic, which is in keeping with the S40's premium-car status. The S40 adheres to Volvo's recent design elements, looking every part as good as its S60 and S80 brethren. Stylistically, the S40's interior is a standout. The architecture in use ascribes to a modern, somewhat minimalist theme, which unfortunately seems to apply to the size of storage bins and the vehicle's side mirrors. I must say, the diminutive side mirrors are surprising for a car company that espouses so ardently on [link url="http://www.auto123.com/en/used-cars/safety-guide">safety. Despite the noted deficits, all controls are thoughtfully positioned and the materials in use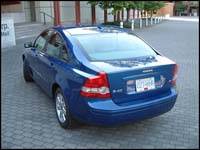 (Photo: Rob Rothwell)
exude quality. Inside and out, the S40 is a tremendously well-built rig; just check out the incredibly tight, accurate spacing around the doors, front hood, and body panels- it's hard to beat such precise tolerances regardless of vehicle origin or price.
The solid build quality is also evident when the car is in motion. Bumps and potholes don't reverberate unduly through the S40's cabin. Its fully independent suspension setup effectively absorbs such irregularities without over-reacting. The product is a fairly firm but beautifully composed ride. It's all about control, and the S40 knows it. Cornering prowess is very high for a sedan that doesn't purport itself to be an edgy, boy-racer like some of its competitors. When
(Photo: Rob Rothwell)
it comes to the ride-versus-handling ideal, the Swedes have cooked the perfect meatball. The S40 is spry enough to toss about while knowing full well it will hold the chosen line, within reason of course; yet no one will complain of loose fillings or crushed vertebrae.
It's also unlikely anyone will be prone to complain of inadequate seat comfort or head and leg room- at least not in the front seats. I find these perches to be among the best in the compact class. I also like the Dala T-Tec (and I didn't make that name up) cloth upholstery that covers the furniture when leather isn't selected. It feels good on the backside and looks plenty attractive as well. Throwing Volvo's unique key into the dash-mounted slot and firing up the 5-cylinder wonderment allows operate the joyous 5-speed mixer, which comes as the standard S40 gearbox. A 5-speed autobox is optional and a 6-speed manual transmission accompanies the T5 upgrade. Rowing with Volvo's basic 5-speed stick is a pleasure. Throws are short and effortless while clutch take-up is smooth and nicely progressive, adding a little fun to the S40 driving experience; but you had better be light on your toes to avoid clipping the edge of neighbouring pedals when braking or shifting. The foot well is narrow, resulting in limited space between pedals. After some seat-time, even a clod wearing size 11s will get the hang of dancing with the S40 without stepping on her toes. Think of it as Fred Astair meets the late, great Gilles Villeneuve.
By Rob Rothwell,