So it's not Trail Rated. Who cares?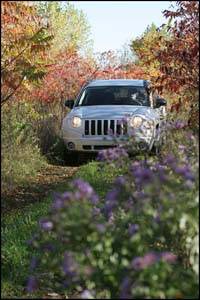 2007 Jeep Compass Limited 4x4 (Photo: Philippe Champoux)
It must be quite challenging to develop a new Jeep. After all, the brand is now a household name, which probably makes a lot of other carmakers envious. But when a new Jeep model comes along, it has to be good, no, very good. In addition, the company started slapping "Trail Rated" badges on the flanks of their products that can escape the Rubicon Trail unscathed.
All of a sudden, Jeep decided to produce a new model where no version is Trail Rated, the 2007 Compass. Since it drove up on the stage of the Detroit Auto Show last January, Jeep purists have been screaming about how the Compass isn't worthy of the famous seven-slot grille, and that Jeep's product planners have lost their marbles.
The new Compass is Jeep's thoughts on what an urban SUV should be. Available in front-wheel or all-wheel drive configurations, this little truck is now Jeep's less expensive model, priced below the new
Wrangler
. The
Compass
shares its powertrain and chassis with the brisk-selling
Dodge Caliber
.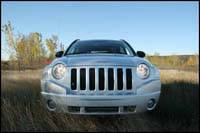 2007 Jeep Compass Limited 4x4 (Photo: Philippe Champoux)
Before getting up close to the Compass, I thought it looked a little weird in pictures. But the Jeep looks much nicer in person, even somewhat attractive. It might be because it's new, but the Compass gets a lot of stares. The front end, with its trademark Jeep front fascia and round headlamps, is tough-looking and the family resemblance is unmistakable. The bulging front and rear fenders hint at the Wrangler's styling, and the rear door handles are bolted onto the frames to give the trucklet a two-door look. The optional 18-inch chrome wheels add some style to the package as well.
Open the hood, and you'll find the same 172-horsepower engine as in the Caliber R/T. What's funny is that you can get a 5-speed manual with the 2.4-liter unit in the Compass, but now in the Caliber. However, my test car is equipped with the optional CVT automatic transmission.
Although the powertrain is adequate for normal driving, the engine is loud and the noise it emits is not particularly pleasing. The CVT works well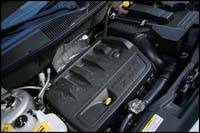 2007 Jeep Compass Limited 4x4 (Photo: Philippe Champoux)
when you're not in a hurry, but if you floor the throttle, the engine stays at the 6,000-rpm mark until you feel sorry for it and lift your right foot. During that time, the Compass indeed accelerates, but the four-cylinder mill doesn't feel happy about it. The Autostick manual mode helps, as you can row through pre-determined gear ratios and make the drive more enjoyable. My fuel consumption average during its stay with me is 11.5 l/100 km.