Is being different really better?
2010 BMW 550i Gran Turismo Review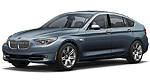 BMW seems to be on a quest to create new vehicle categories. The mean monster
X6
is a sport-utility vehicle for us, but not for its creator, which calls it a Sports Activity Coupe. With the arrival of the 5-Series Gran Turismo, BMW is taking another shot at producing a unique type of vehicle.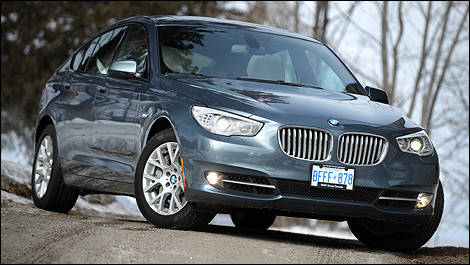 It may be part of the 5-Series family, but it's actually based on the 7-Series' platform. (Photo: Matthieu Lambert/Auto123.com)
Off the bat, we don't consider a Grand Touring vehicle to be a five-door hatchback; the German brand's 6-Series Coupé is, for us, a true Grand Touring car. But anyway, let's forget about the name and figure out if this 550i GT reinvents the wheel.
It may be part of the 5-Series family, but it's actually based on the 7-Series' platform, since it shares its 3,070-mm wheelbase. As for the 2011 5-Series sedan, it uses a shortened version of that same architecture.
The rear-wheel drive 550i GT benefits from a twin-turbo, 4.4-litre V8 that develops 400 horsepower and 450 pound-feet of torque. It's bolted to a new 8-speed automatic with manual mode. Nineteen-inch wheels with 245/45R19 tires up front and 275/40R19 tires in back are also part of the deal, although 20-inch wheels with tires of the same width are part of the Sport Package that's included on our test chariot.
No doubt, with all that muscle under the hood, the Gran Turismo is quick: 0 to 100 km/h takes 5.7 seconds. Yet it isn't as quick as a 400-horse
Porsche Panamera 4S
we recently tested, and one reason for that is because it's way heavier. In fact, the 550i tips the scales at over 4,900 pounds, or about 800 more than the Porsche. It's also heavier than a
750Li xDrive
.
Our
fuel consumption
average of 13.7 L/100 km isn't particularly extraordinary, but it's about what we expected, so no surprises here.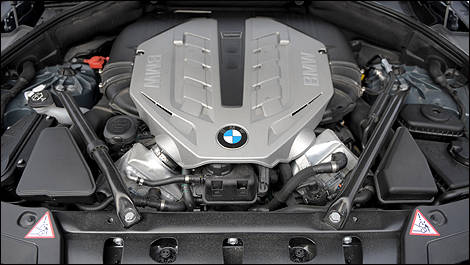 The 550i GT benefits from a twin-turbo, 4.4-litre V8 that develops 400 horsepower and 450 pound-feet of torque. (Photo: Matthieu Lambert/Auto123.com)
By Michel Deslauriers ,