Girls > Guys
2012 Fiat 500 Lounge Review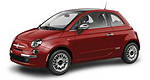 A lot has been said about Fiat's return to the US and Canadian markets, and they probably couldn't have chosen a better model to start with. Oh, not because they'll be selling tons of copies of its 500 subcompact — that market segment has yet to catch fire — but because it stands out and makes a statement.
The
2012 Fiat 500
is as much about branding as the car itself. You're not just buying a transportation device; you're buying an expression of your character and taste.
For the ladies, that's fine. For us guys, purchasing any Fiat 500 that doesn't have Abarth and chromed scorpion badges on it might not be best option for making a statement. Special edition versions such as the
500 by Gucci
should be enough to convince you.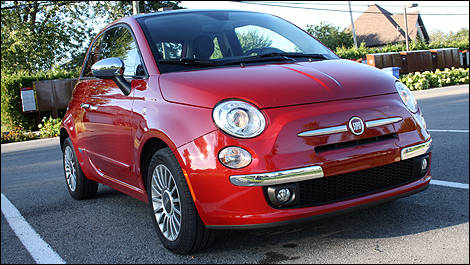 The Fiat 500 is not just a car, it's a brand. (Photo: Michel Deslauriers/Auto123.com)
This thing is really small
Unsurprisingly, the Fiat 500 ain't no family car. While front-seat passengers get sufficient space, back-seat occupants won't be very happy, even if they're kids. The 269-litre trunk can haul a week's groceries, but fitting in a suitcase requires that you fold down the split rear seatbacks.
Actually, I don't feel all that comfortable up front either. The seat cushion can't be lowered enough, so my head is virtually scraping the side window ledge, and although I'm getting used to it, it still bugs me. There's a significant blind spot on the left side, thanks to the B-pillar; the driver must exploit the driver-side spotter mirror before performing a lane change. In addition, the circular headrests are more fashionable than comfortable.
Interior plastics are exactly what you'd expect from a car that costs as little as $15,995. The colour-coordinated dash trim brightens up the cockpit, the overall design is upbeat and except for the sound system, the switchgear is straightforward.
I'd prefer volume and tuning knobs to buttons, as they're easier to use while driving. There is a USB port for plugging in a wider selection of music, and you can browse through folders on the trip computer display located in the centre of the speedometer; however, the process is fussy and almost every time I started up the car, the radio didn't memorize which song was previously playing, reverting back to the first song on the USB key. Irritating to say the least.
The colour-coordinated dash trim brightens up the cockpit, the overall design is upbeat and except for the sound system, the switchgear is straightforward. (Photo: Michel Deslauriers/Auto123.com)
By Michel Deslauriers,