More impressive on the road than on paper
2012 Mazda2 GS Review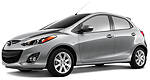 It's only the second year on the Canadian market for the Mazda2 subcompact, and somehow, it feels like it's been around for much longer.
The fact that the latest generation of the 2 has been available overseas for a few years now probably has something to do with it. It got a lot of well-deserved attention, and rumours about its arrival in the US and Canada, which took three years to materialize, also contributed to building up our expectations.
The 2012 Mazda2 also has some fierce competition: the
Hyundai Accent
,
Kia Rio
and
Chevrolet Sonic
are all-new, more powerful and better-equipped. On paper, the 2 seems underwhelming, but still shines in certain important aspects.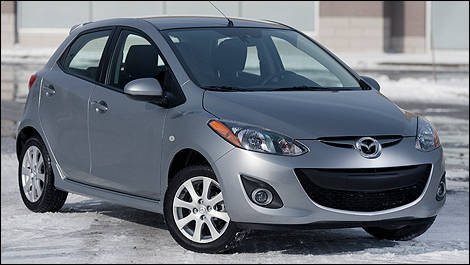 The Mazda2 trails most of the competition in sales. (Photo: Sébastien D'Amour/Auto123.com)
Not a fuel economy champ
Off the bat, the Mazda2's modest output of 100 hp and 98 lb-ft of torque, compliments of its 16-valve, 1.5L inline-4, doesn't measure up to the Accent and Rio's 138 hp nor the Sonic's 135 horses. Yes, the 2 weighs about 200 pounds less than these rivals, but a little extra muscle certainly wouldn't hurt.
The optional 4-speed automatic transmission is also two gears short of several competitors, which most certainly takes its toll on fuel economy. On the other hand, there isn't much low-rpm torque, so a 6-speed auto could potentially make the car feel more sluggish, and we certainly wouldn't want that. At 100 km/h, the engine spins at 2,500 rpm.
Speaking of fuel economy, the Mazda2 with the automatic is rated at 7.1/5.8L/100km city/highway. Our average of 7.7L/100km is higher than expected; there's a notable difference between driving at 80 km/h and 100 km/h (think 1.5 L/100km more). Ironically, the bigger Mazda3 with its SKYACTIV engine delivers better fuel economy.
Still, the 2012 Mazda2 benefits from a quick steering ratio, which results in a very manoeuvrable car. The suspension and tires hold up pretty well on twisty highway on-ramps, too; despite the low power, the 2 remains one of the most fun to drive in its category, more so with the 5-speed manual.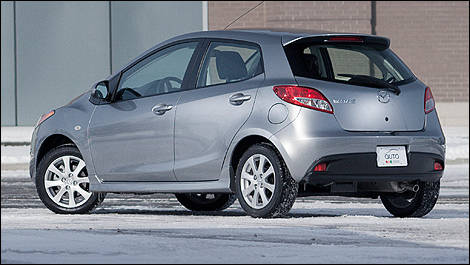 Fuel economy could be better; we've averaging 7.7L/100km. (Photo: Sébastien D'Amour/Auto123.com)
By Michel Deslauriers,