Not for the milquetoast
2012 Nissan Maxima 3.5 SV Review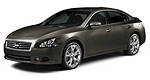 A few years back, I attended the launch of the latest generation Nissan Maxima. It entered the automotive world completely new for 2009, and not a lot has changed since then.
I'm pleased to again have the Maxima in-hand. For 2012, the car receives a couple of subtle styling changes and some new interior trim. In reality though, it's the same vehicle as last year — but that's not a bad thing by any stretch of tarmac.
Unique styling remains fresh
The Maxima is definitely eye-catching thanks to its distinctive hourglass body shape and bold design cues that include overt sculpting and dramatically cut headlights. Despite remaining largely unchanged since 2009, the Maxima remains fairly fresh, thanks to its relative rarity.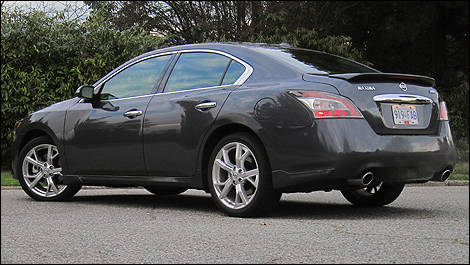 The Maxima is definitely eye-catching thanks to its distinctive hourglass body shape. (Photo: Rob Rothwell/Auto123.com)
I still look twice when I spot one and admire that fact that the owner had the confidence to choose a sedan that breaks the mould of what we expect from a fairly conservative Japanese manufacturer; there's no mistaking the Maxima for a
Camry
or
Accord
.
The appeal of the Maxima extends inward as well. Here you'll find a cabin that's remarkably upscale for a Nissan product that doesn't wear an Infiniti badge. Soft-touch materials line the richly appointed cabin, which is one of the most user-friendly, logically laid-out living spaces in the mid-range mid-size sedan segment.
While I admire the straightforward approach Nissan has taken with the Maxima's instrument panel and switchgear, it's the vehicle's drivetrain technology that really sets this sport sedan apart from the competition.
Sophisticated CVT maximizes performance and economy
It's unique to find a continuously variable transmission (
CVT
) in an upscale performance vehicle, especially one that's described by its manufacturer as a four-door sports car, but that's exactly the case with the Maxima.
Most CVTs I've encountered have been in economy cars and hybrid vehicles. They serve the needs of plebian rides quite effectively but aren't generally considered desirable for cars intended to deliver a high degree of performance. The Maxima blows apart that notion.
The unit connecting the Maxima's powerful V6 engine to its front wheels is one of the best functioning CVTs I've sampled, and I've grown to like it immensely largely due to its efficiency and its ability to accurately mimic a conventional six-speed automatic transmission when operated in its electronic manual-mode.
The unique box does a commendable job of blending the best characteristics of a CVT with a normally functioning autobox. One note though: this CVT likes to keep the engine revs exceptionally low when power isn't in demand. While this effect improves fuel economy, it tends to elicit low-resonance harmonics from the award-winning mill. I wouldn't characterize the notes as unappealing though; the soundtrack is emblematic of economical operation and rather endearing, however, nowhere near as endearing as the response when the right foot drops.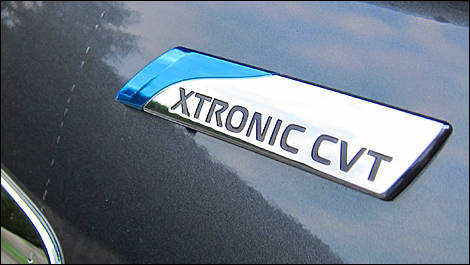 The unit connecting the Maxima's powerful V6 engine to its front wheels is one of the best functioning CVTs I've sampled. (Photo: Rob Rothwell/Auto123.com)
By Rob Rothwell,