2013 Buick Regal Preview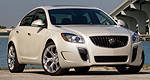 Pros and Cons*
Pros
The 2013 Buick Regal benefits from a widely- acclaimed design, excellent road handling, comfortable seats, beautiful interior fit and finish and also from the fact that it is among the rare breed of sedans which offer a manual 6-speed transmission.
Cons
Caveats include an options list which quickly inflates the price, lack of rear-seat headroom, insipid 2.4-litre engine and questionable resale value.
Price
The eAssist-equipped base model starts at $36,845.
The Buick Regal Turbo 1SP and 1SR both start at $37,450.
The Regal GS has a MSRP of $41,455.
Fuel Economy
Fuel economy ratings for the 2.4 litre engine are rated at 8.3 L/100 km city and 5.4 L/100 km highway.
The 2.0-litre turbocharged engine and manual transmission combination consumes an estimated 10.5 L/100 km and 11.1 L/100 km city and between 6.2 L/100 km and 7.4 L/100 km highway when equipped with the regular or high-output turbocharged engine option, respectively.
The automatic transmission brings these totals to 11.0 L/100 km and 11.4 L/100 km city and between 6.9 L/100 km and 7.4 L/100 km highway.
Exterior Styling
This modern sedan has fluid, contemporary lines with a semi-circle front grille and elegant rear tail light moulding that make it unique.
Drivetrain
The base 2.4-litre engine is equipped with eAssist electric drive and produces 182 hp and 172 lb-ft torque. It delivers this power to the front wheels via a 6-speed automatic transmission.
An optional 2.0-litre turbocharged engine that produces 220 hp and 260 lb-ft torque is also available.
The GS model is equipped with a variant of this same turbocharged engine that produces 270 hp and 295 lb-ft torque that can be mated to either a manual or automatic 6-speed transmission delivering the power to the front wheels.
Cargo Capacity
The eAssist model offers 314 litres of cargo space while the turbocharged versions offer 402 litres.
Safety
The 2013 Buick Regal is equipped with no less than eight airbags.
Comparable Models
Acura TSX, Lincoln MKZ, Lexus ES, Nissan Maxima, Volkswagen CC, Volvo S60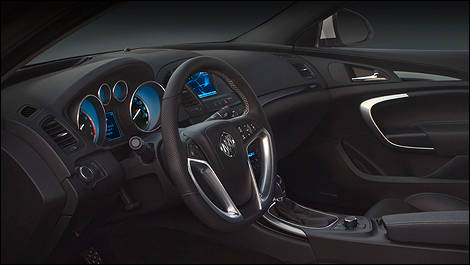 Photo: Buick
*References
Rufiange Daniel, L'annuel de l'automobile 2013, Montréal Transcontinental, 2012, p.152
Duval Jacques, L'auto 2013, Montréal, Les éditions La Presse, 2012, p.159
www.gm.ca
By Marie-Laurence Paquin ,