They nailed it
2013 Scion FR-S Review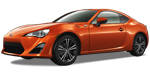 Toyota couldn't have picked a better time to make a comeback on the sports car scene. True, they needed a little help from their friends, and we've been hearing about the development of this car for about four years now but, oh man, the wait was worth it.
We're not talking about some spruced-up, Yaris econohatch or a Corolla with a rear spoiler and side skirts: The 2013 Scion FR-S is the real deal, and so is its near-identical twin, the
2013 Subaru BRZ
. While the
differences between the FR-S and the BRZ
are minimal, both are pure sports cars and won't disappoint those seeking a fun, affordable weekend track toy that also doubles as a great daily driver.
In fact, the Scion FR-S' only true shortcoming is that it's a Scion.
The more I drive it, the more I like it
A collaborative effort between Toyota and Subaru might have been a doubtful one a couple of years ago, but the result is flabbergasting. Subie provided the car's mechanicals, and Toyota penned the car's shape and cockpit.
Under the hood lays a 2.0L flat-four BOXER engine that develops 200 raucous horsepower and 151 lb-ft of torque. While these numbers may seem modest in the realm of 283-hp minivans, the Scion's curb weight of 2,578 lbs (or 1,251 kg) doesn't require a massive dose of power to get skeddadling.
And here's one thing you should understand: You don't need tons of horsepower to make a car fun. Straight-line speed isn't the only criteria for evaluating a sports car. In the Scion's case, our tester scooted to 100 km/h in 7.6 seconds. That's not a blistering pace, but it's not slow, either.
On the other hand, the 6-speed manual's shifter borders on magnificence, with short, stiff-but-clean throws and a mechanical feel that makes you wanna row through the gears all day long.
At 100 km/h, engine revs stand at 2,750 rpm, which isn't bad considering the nature of the beast. Overall, my fuel economy averaged 8.0L/100km over the course of the test week, which is very good despite what I put it through. Oh, the FR-S requires super unleaded.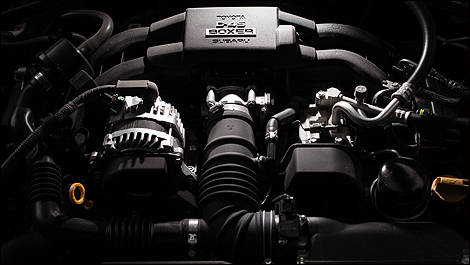 The 2013 Scion FR-S, like its Subaru BRZ near-twin, gets a 2.0L flat-four engine that develops 200 hp and 151 lb-ft of torque. (Photo: Sébastien D'Amour)
Track star
As we observed, by pitting the
FR-S and the BRZ against each other on a closed course
among other rivals during our
compact sports coupe comparison test
, the Scion is the better track car of the two. Suspension calibrations make the FR-S a little stiffer than the BRZ, and it shows; around the track, the car's tires squeal less than the Subie's and the Scion is generally more at ease.
Best of all, the FR-S clings reassuringly to the tarmac. Since it's not overly powerful, the beginner race-car driver will only get into trouble if he or she pushes the little coupe over its limits. And its limits are pretty high, even for a rear-wheel driver. In addition, the stability control system's track mode allows for some drifting action, but still acts as an effective safety net. In short, the 2013 Scion FR-S is brilliant on a track.
On the road, the ride is a little less comfy than the Subaru's, but remains more than tolerable. You sit low to the ground, and the car's ultra-low centre of gravity results in virtually no body roll when you tackle some twisty country roads -- which you'll want to do pretty frequently.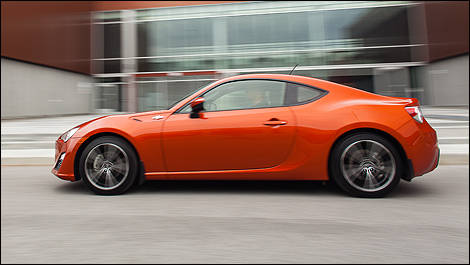 The FR-S is a brilliant track car, and its power output won't get the beginner racer into trouble. (Photo: Sébastien D'Amour)
Basic and effective cockpit
The FR-S wasn't designed to pamper its occupants, but they do benefit from a simple, effective and straightforward appearance and layout.
The back-hugging sport seats are fantastic. Although shorter drivers complained about sinking in the seat while driving, my 5"9' carcass fit just fine, and the driving position in this car is perfect. Rear-seat space, if you must ask, is bearable for kids if the front chairs are slid forward. As for adults, well, maybe they should take their own cars.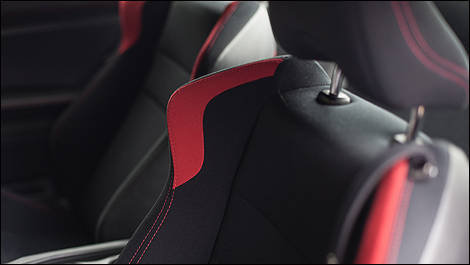 The cockpit is simple yet effective, and includes back-hugging seats. (Photo: Sébastien D'Amour)
Very affordable
For only $25,990, you get one mighty fine sports car. It's actually $1,300 cheaper than the BRZ, although you sacrifice a navigation system, LED driving lights and a few other minor details. Competition includes the Mazda MX-5, the Hyundai Genesis Coupe 2.0T and the
Hyundai Veloster Turbo
, among others.
Here's the thing: The FR-S is the Toyota I desire most, at least since the original MR2. However, in North America, the marketing team has convinced the company to sell the car as a Scion, and that's quite a blunder. A lot of people don't even know what a Scion is to start with. They should've called it the Toyota FT86 in every global market instead of diluting the car's image.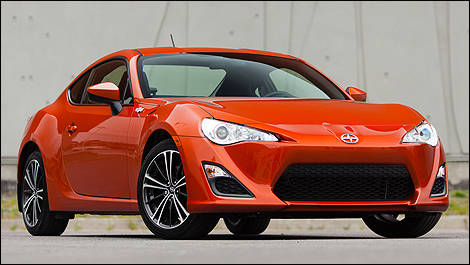 The Scion FR-S is a steal at a base price of $25,990. (Photo: Sébastien D'Amour)
The BRZ offers more standard and optional equipment. And for now at least, Scion doesn't list any accessories to customize the FR-S. Its sexy body doesn't really need any cosmetic add-ons, but a rear spoiler would do nice; but, sorry, you can't have one.
Regardless, I'd still buy an FR-S because Toyota and Subaru nailed it. In short, this car is nothing short of amazing.
By Michel Deslauriers,