Audi goes grand touring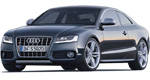 Sitting between BMW's 3 and 6 Series coupes in dimension (actually, more common in size and philosophy with Mercedes-Benz's CLK Class) the all-new
2008 Audi A5
coupe can accommodate four passengers comfortably and 455 litres of their luggage in the rear trunk. Further, it's Audi's first true GT coupe since the Coupe S2 of 1996.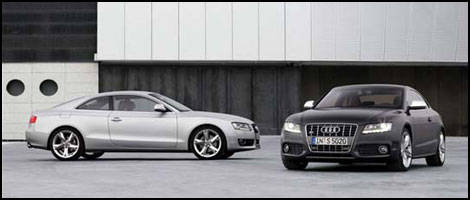 A5 (left) and S5 (right)
Walter da'Silva, Head of Volkswagen Group Design and the father of Audi's recent design language, beams that the A5 is "the most beautiful car I have ever designed." Conceptually inspired by the Nuvolari Quattro concept that Audi revealed at this same show in 2003, da'Silva insists the A5 simply isn't a production clone of the concept.
With the all-new A5, Audi has moved the engine more towards the centre of the car for a better balance in the car's weight distribution, and stylistically, less metal ahead of the front wheels.
All Canadian-bound A5's will come with Audi's 40/60% torque split permanent all-wheel-drive and a 265 h.p. 3.2L V6. A high-performance A5 variant, the S5--also debuting here in Geneva--will have a new 350 h.p. 4.2-litre V8, which Audi predicts, will make the S5 go from a standstill to 100 kilometres per hour in 5.1 seconds.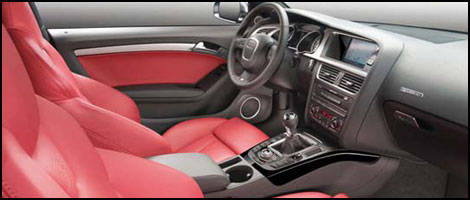 S5 interior
Both the 2008 Audi A5 and S5 coupes will arrive at Canadian dealerships this November. Initially, only with manual transmissions, with automatic versions to come approximately four months afterwards. Audi Canada will announce final pricing and equipment later this year as well.
photo:
Audi
By Auto123.com,