Chinese automaker BYD Auto plans on coming to market with a new electric-hybrid vehicle in the second half of 2008. This car would offer a range of about 60 miles at 60 mi/h in full electric mode.
It will be a midsize car based on the same platform as the F6, an Accord-lookalike which is already sold in China. The official name will be F6 DM ("dual mode"), meaning that the vehicle could run solely on electricity or with a combination of gas/electric power.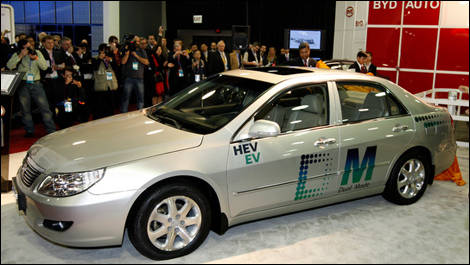 BYD F6 DM
This breakthrough will be made possible by the development of a unique lithium-phosphate battery. Described as "ferrous" by BYD engineers, it's designed to increase the available range. According to Henry Z. Li, General Manager of Vehicle Exportation at BYD Auto, this high-output battery is durable and quick to recharge. An experimental BYD-designed 220-volt recharge station was able to restore 50 percent of the battery's power in only 10 minutes. By comparison, nine hours would be necessary for a full charge with a 110-volt household outlet.
Affordability is another benefit of the "ferrous" battery system. Mr. Li estimates that it would require a premium of only $6,000 or so, adding that current lithium-ion systems make hybrid vehicles much more expensive than their gasoline counterparts.
As mentioned at the beginning, BYD executives plan on marketing the F6 DM by the end of 2008 -- in China, of course. That being said, a lineup entirely comprised of dual-mode hybrids could hit American shores in the next 3-5 years. Among them would be not only the F6 DM, but also future DM variants of other models showcased at the 2008 NAIAS, namely the F3 compact sedan, the F3R hatchback and the stylish F8 coupe-convertible (similar to the VW Eos).
Finally, Mr. Li told journalists that his company firmly intends to develop strong alliances with other automakers in order to spread the "ferrous" battery technology to all corners of the globe.
BYD Auto is a division of BYD, the world's largest rechargeable battery manufacturer. As an independent automaker (no association whatsoever with the Chinese government), it began manufacturing cars in very limited numbers five years ago when the mother company purchased Tsinchuan Automobile Co. In 2006, BYD Auto only built 60,000 units, but last year, production capacity doubled. According to a company spokesman, BYD Auto could produce up to 600,000 units annually by 2013 or sooner.
This is BYD's first-ever appearance at the NAIAS.
photo:
Sébastien D'Amour