Double-wide Jeep Wrangler rules Moroccan streets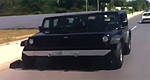 Just when you think you've seen it all, a Moroccan diplomat has commissioned what looks like a pair of Jeep Wranglers fused into one giant 4x4 that's about 12 feet wide. The odd-looking vehicle was recently spotted on the streets of Rabat.
Of course, it's way too large to fit into a single standard lane. On the flip side, based on this Flickr picture, up to 10 people can comfortably sit inside.
Source:
Flickr
Watch:
By Auto123.com ,