Tesla Model S is faster than a Dodge Viper SRT10!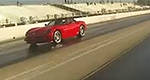 A
Tesla Model S
Performance has just set a new speed record for production electric cars by completing the quarter mile in 12.371 seconds at the Palm Beach International Raceway. With 0-100km/h acceleration in 3.9 seconds, it also proved faster than a 2005 Dodge Viper SRT10.
According to the National Electric Drag Racing Association (NEDRA), the previous record of 13.58 seconds on the quarter mile was held by the Tesla Roadster.
By Auto123.com ,