smart Cars Canada

smart is a German company that gained international fame for producing uniquely-styled, highly-efficient microcars.

In the late 1980s, SMH (makers of the Swatch brand of watches) CEO Nicolas Hayek began working on an idea for a new urban car. He approached several automakers and reached an agreement with Volkswagen in 1991.

By 1993, Ferdinand Piëch immediately sought to terminate the ''Swatchmobile'' project since VW had already been developing their own three-litre car (3L/100km): the Lupo.

Hayek had suspected that Piëch would seek to end the agreement with SMH, so he discreetly began approaching other car companies. Rebuffed by BMW, Fiat, General Motors and Renault, he finally sealed a deal with Daimler-Benz (owner of Mercedes-Benz Cars) in 1994. The press conference also featured the debut of two concept cars: the eco-sprinter and eco-speedster.

The assembly plant of the smart city coupé – the brand's first production model – opened in late October 1997, with deliveries planned for March 1998. However, dynamic instability of the prototypes prompted Daimler-Benz to delay the launch until October 1998.

For two years, the city coupé was the lone model in the lineup. A convertible variant called city cabrio appeared on the market at the turn of the century. Both cars received cosmetic upgrades in 2002 before being renamed fortwo and fortwo cabrio in 2004.

The second generation made its debut three years later and continues to grace showrooms to this day. While relatively new to the game, smart did come up with a couple of special cars as well, including the roadster (2003-2005), forfour (2004-2006) and crossblade (2002).
[...]

Read more about Smart
---
Follow @auto123_smart
---
smart Cars
---
---
smart Coverage
Latest Reviews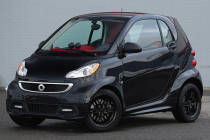 I Say
74%
Marital status aside, my week behind the wheel of the 2013 smart fortwo passion was both amusing and enlightening. This was my first time piloting the two-seater city-dweller, and I was hesitant about how I'd take to the just over -$18k (as tested) micromini. But take to it I did, quite a bit actually.
---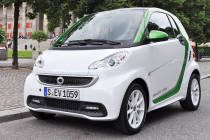 I Say
83%
Cities are making a comeback. They never really went away but what drove people to the burbs and further away still, the cheap cost of energy, is now a thing of the past.
---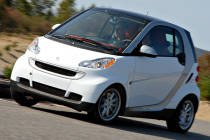 I Say
n/a
Changes to diesel emissions standards meant that for the 2008 model year, smart had to scrap the diesel engine powering their tiny model and install a gas-powered unit instead. Said engine was a 1.0L 3-cylinder with 70 horsepower and nearly as much torque. The model's rear-drive setup remained, as did its "automated" 5-speed manual transmission.
---
Latest News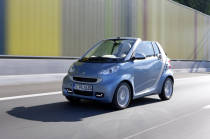 Behind the wheel of a 2013 smart fortwo cabrio, you can enjoy the sun, easy driving, a surprisingly roomy passenger cab... all at an affordable price. This is topped, of course, by the car's unique look.
---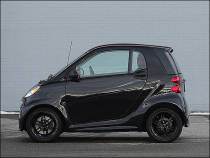 Recently, I adopted a smart fortwo passion for the week. I say "adopted" because I rather felt like I'd brought home something in desperate need of shelter, love and a good meal as our harsh winter months drag on. Dutifully it sat, every day, waiting for me to start up the engine and play.
---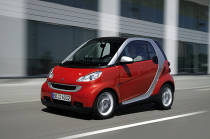 Mercedes-Benz Canada has just issued a recall on 10,242 smart fortwos from the 2005-2006 model years.
---
Latest Pictures
---
Latest Videos