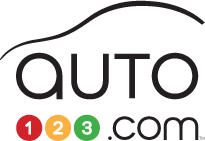 Tire Test: Bridgestone Dueler HL Alenza Plus
A little Bridgestone history
The Dueler HL Alenza nameplate was launched in 2004. So, if you've heard of it before, that's why. Among its strong points were its quiet ride and clean appearance. Furthermore, it catered to luxury SUVs and light trucks like the Infiniti QX,
Acura MDX
,
BMW X5
,
GMC Sierra
, and more. Additionally, the Bridgestone Dueler HL Alenza became a segment leader and was recognized for its all-season traction and ability.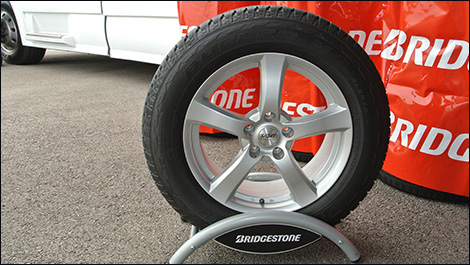 Photo: Alexandra Straub
Why people like/buy Bridgestone Dueler HL Alenza Plus tires
When Bridgestone surveyed consumers, they found that they purchased the Alenza because of the price (high perceived value, further improved by the Alenza Plus), and a salesman recommendation.
They also mention that the consumers were very satisfied with the noise level, wet traction, and steering responsiveness of the Alenza.
With the luxury crossover, SUV,and light truck segments steadily growing, Bridgestone has positioned themselves in a pretty good spot.
Now, they've even improved a tried-and-test product.
What's new on the Bridgestone Dueler HL Alenza Plus
Launched in January of 2014 the tires now use a new tread compound that contains 5% recycled rubber. Additionally, they aid in your car's fuel economy due to an increased (10% better) rolling resistance. The treadwear warranty also increases to 128,000 kilometres (80,000 miles.)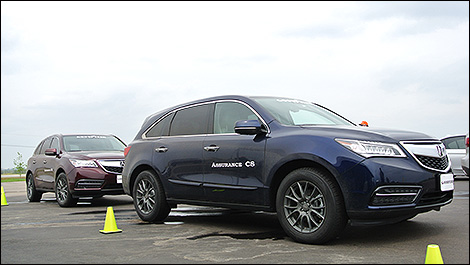 Photo: Alexandra Straub
Impressions
The primary testing ground in which we put the new Dueler HL Alenza Plus tire through its paces was a wet skid pad.
We did back-to-back testing with the Bridgestones against the Goodyear Assurance CS tires.
When the track was drier, both tires performed well. There wasn't a huge difference in traction since we were driving under more favourable conditions. However, it was in the wet that the Bridgestone had the competitive edge.
Granted, we were pushing the cars and the limits of the tires quite far.
When understeer occurred in the Acura MDX, I found the Bridgestone Dueler HL Alenzas regained traction with less steering input, whereas the Goodyears required a little bit more.
In higher-speed, tighter corners, I also felt more firmly planted than on the Goodyears.
Under hard braking, there wasn't too much slipping and sliding going on. It also helped that the temperature outside wasn't too cold.
During the short test time, I can't really report on fuel economy savings! However, there is a smoothness to the tires, even on adverse or imperfect road surfaces.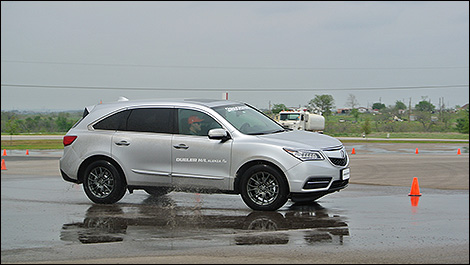 Alexandra Straub
Specifications for the Bridgestone Dueler HL Alenza Plus
When it comes to the specifications of the Dueler HL Alenza Plus tires, they have speed ratings of T, H, V, and W. They are offered in 34 sizes, with 15" to 20" rim diameters and have 45-75 series.