2002 GMC Terra4 Concept - Pointing in the Right Direction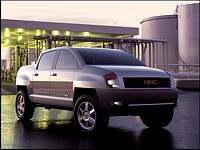 It's hardly breaking news that pickups are strong sellers in the North American market. They offer the kind of flexibility consumers need, or at least think they need.
So important are they to the General Motors lineup that the automaker builds nearly identical models in both Chevrolet and GMC trim. Even GM's Cadillac brand has jumped into the act lately with the Escalade EXT. Competitors Chrysler, Ford, Toyota, and now Nissan only offer full-size pickups under a single brand each.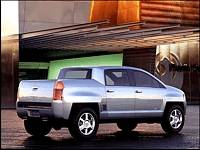 For good reason the General is looking to the future, to either update its existing trucks or expand its reach by offering a new line of more stylish cargo haulers. The Terra4 concept shows a possible direction for future professional grade trucks.
"Terra4 builds upon the capability GMC has already established with the Terradyne (2000) and Terracross (2001) concept vehicles," stated Carl Zipfel, GMC brand character chief designer. "The truck market has undergone a radical shift as trucks have moved away from being strictly work vehicles to being vehicles for personal use."