2003 Dodge Kahuna Concept - Why Be Boring?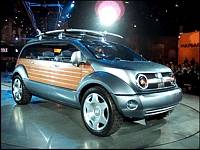 The Dodge Kahuna concept, introduced at the Detroit auto show in January, pulls attitude from Chrysler's PT and interior volume from the brand's award-winning minivans. (Photo: Trevor Hofmann, Canadian Auto Press)
If all minivans were as radical as the Kahuna we'd be seeing a lot more teens asking to borrow Mom's car keys instead of Dad's for the big date. But alas it's only a concept.
The Kahuna, an eclectic mix of PT Cruiser attitude and Caravan seating capacity, pulls a few of its frontal styling cues from Dodge's M80 pickup concept of last year. A large oval grille incorporates the company's now trademark crosshair grille at center, flanked on either side by a single round headlight. The minivan has a retrospective look and feel, with rounded fenders like cars of the thirties and forties, separated by six thick slabs of what appears to be wood paneling. Tall vertical taillight ribbons stretch from north to south, edging a smooth, flowing rear profile.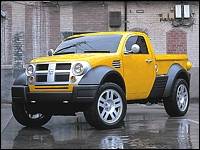 The M80 concept, revealed last year, shows a few similar styling cues especially up front. (Photo: DaimlerChrysler)
Its exclusive Point Break Blue paint color says it all. The Kahuna might be the ultimate surfer's ride with its room for six beach bums, integrated roof rack for strapping down the boards and frameless side windows plus folding transparent canvas sunroof creating an open-air, California ambience. And don't forget the tunes. While nothing was mentioned in the press material be sure that if produced it would get a version of Chrysler Group's awesome Infinity audio system with a multi-disc in dash CD changer, just like the PT.