2003 Volvo VCC Concept - The Name Says It All
What's in a name? That depends. A lot of the time I sit and scratch my head wondering, "What were they thinking?" And then there are monikers that are less of a mystery. Such is the case with the Volvo VCC, or Versatile Concept Car. While the term 'versatile' is a bit ambiguous, it's a descriptive handle if not a little dry.
But the vehicle itself is anything but. Volvo tags it as "smarter luxury." Why? It combines high-tech safety and discreet luxury in a way only the Swedish car company can. Innovations such as static bending light, leather carpeting and ambient air distribution, to name a few, set this concept apart from stock Volvos.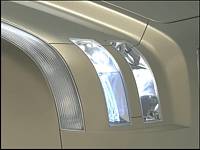 But what about its styling? The crested waterfall grille is unmistakably Volvo, dominant front and center. The wagon profile also hardly revolutionary, along with the concept's strong S60, V70 derived shoulder lines.
But its overall configuration is not necessarily what makes the VCC design unique, that's only what makes it a Volvo. Three vertical lighting clusters line up parallel at each side of the grille. The innermost stacks incorporate a "Static Bending Light" system that employs three light units aimed at different angles. The one at top focuses directly ahead, acting as a conventional dipped beam. The second and third bulbs are sequentially linked to the car's steering to point in the direction of the curve. The center vertical lenses project the main beams while those on the outside act as markers. The lamps are not only thoroughly functional but offer a distinct styling statement.