Is the S3X a Harbinger of Things to Come from European Chevrolets
It's amazing how a seemingly short amount of time can change the landscape of the automotive industry. Not two years ago, the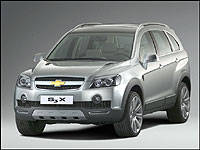 General Motors' GMDAT division, built out of the remnants of Daewoo, designed and built the S3X concept for Chevrolet from the ground up. (Photo: General Motors of Canada)
Daewoo Kalos was introduced to non-North American world markets, signaling the beginning of GM Daewoo Auto & Technology (GMDAT), a new lease on life for the South Korean firm which was buried deep in red ink. Little did onlookers realize that Chevrolet, GM's traditional budget brand, would soon be taking over the Korean nameplate in Europe.
Now that all has changed, in order to strengthen Chevrolet's less than solid brand awareness overseas the American firm has presented several new vehicles at this year's Paris motor show, highlighted by a new midsize crossover SUV called the S3X concept. Unlike any previous Chevy SUV, the compact S3X is directly aimed at the European market, featuring advanced technology and styling to cater to European needs.
Designed, engineered and built entirely by GMDAT in South Korea, it's the first concept vehicle that the firm has built since last year's SCOPE crossover concept. But unlike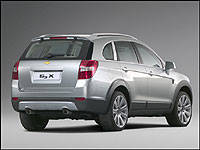 When the S3X is produced, it will be Chevrolet's first diesel vehicle in Europe, as well as one of the first diesel-hybrids if the General gives the green light to an alternative fuel version. (Photo: General Motors of Canada)
the SCOPE, the S3X is considered to be a "near-production" concept vehicle, a harbinger of the vehicle that is expected to appear in Europe for the 2006 model year.
GMDAT has used the S3X to foray into the world of diesel and hybrid technologies. The common-rail turbodiesel motor is known globally for its economy, cleanliness and performance, but in the S3X it gets assisted by an electric hybrid system. Using a similar mild-hybrid layout of electric motors and generators made mainstream by Honda's Insight, Civic Hybrid and most recently, Accord Hybrid, an electric motor assists the internal combustion engine (ICE) to cut back on fuel consumption and emissions. The S3X is one of the first vehicles to harness electric assist to clean diesel power making this sport utility vehicle one of the world's most environmentally friendly SUVs. Its future-think technology must be why Chevy has kept info about the powertrain system closely under wraps, and has not disclosed any specifications.