Would It Do Well If Sold in Canada?
Like oil and water, families and sports cars have typically been at odds with each other, neither one complementing the other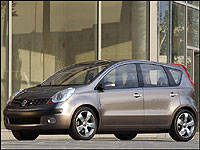 Nissan may just have the ideal fusion of sports car performance and family hauling practicality. (Photo: Nissan Canada)
with great success. Automobile manufacturers have struggled at length to find a solution that can accommodate enthusiast drivers, along with their children.
For people who don't want to sacrifice performance for pragmatism, Nissan may just have the ideal fusion of sports car performance and practicality. The Tone concept, which was displayed at this year's Paris Motor Show, is a crossover hatchback cum mini-minivan, biased heavily toward those passionate about driving. While forecasting the future of crossover vehicles, even more importantly the Tone foreshadows a similar production vehicle available for consumers as soon as 2006.
When production of this vehicle begins, purchasers will be treated to one of the smallest Nissans in an expansive model range. This one, however, is definitely not short on style,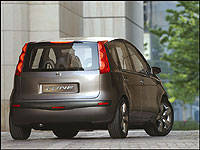 Although one of the smallest vehicles in the Nissan lineup, the stylish Tone is definitely not short on passenger and cargo capacity. (Photo: Nissan Canada)
pulling cues from the entire range of Nissan cars, sport utilities and previous concept vehicles. Nissan followed a strict regime of 'deliberate masculinity' when designing the Tone's interior, necessary to extract the stigma of the dreaded minivan. Some of the highlights of this change include real, brushed aluminum inserts featured on the semi-circular center console and the navigation display on the upper dashboard. In addition, the contoured, sport bucket seats with metallic-effect black, purple and silver leather trim belong in the sports car realm rather than in the minivan segment. Air vents that duplicate the styling of the front grille, while red LED mood lighting and a black and purple weave headliner set the interior apart - the latter matching the seating surfaces and exterior paint.