More Power and 1,000 Pounds Less Weight Transform the Grand Tourer to Supercar Status
If a tuner were to remove 1,000 pounds (454 kilos) from most any other sports coupe, no doubt it could be considered a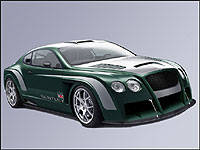 The Genaddi Design Group has produced the Bentley Continental GT/LM, over 1,000 pounds (454 kilos) lighter than the stock model. (Photo: Genaddi Design Group)
lightweight model, but starting at 2,385 kilograms (5,258 pounds) for Bentley's Continental GT puts the lightweight version in BMW 7-Series, Mercedes-Benz S-Class territory, hardly lightweight.
Nevertheless, the Bentley Continental GT's 551 horsepower 6.0-L, 48-valve, DOHC, twin-turbocharged W12 powerplant with 479 lb-ft of torque moves it along briskly even at its stock curb weight, achieving zero to 100 km/h in a scant 4.8 seconds. Remove 1,000 pounds (454 kilos) and sprints to 100 will no doubt be approaching the high 3- or low 4-second range.
The Continental GT/LM isn't a skunkworks project from Crewe, Bentley's manufacturing plant, nor a one off from Mulliner Park Ward, the firm's customizing division, similar in theory to BMW's M and Mercedes-Benz' AMG, albeit with a much greater history in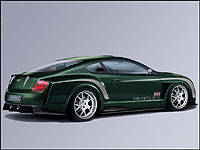 Seeing that the stock Continental GT's 551-hp engine can propel it from 0 to 100 km/h in 4.8 seconds, the even more powerful 1,000 pound lighter tuner version should break the 4.0 second mark. (Photo: Genaddi Design Group)
specialized coach building. Rather, this unorthodox Bentley comes from the Genaddi Design Group, a U.S. firm under the direction of master coach builder Mark Gerisch.
What makes the GT/LM so lightweight in comparison to the stock Continental GT? It doesn't sport a tubular chassis or anything, but instead makes use of the stock framework set out by Bentley, which is one of the strongest unitized chassis' in the industry. The suspension, brakes and internal engine components are also untouched, the thought being if they were good enough to carry, stop and power a 2,385 kilo (5,258 pound) car they'd be easily up to the task of doing so when 1,000 pound (454 kilo) ballast was removed from the scale.