If you've ever traveled through the American mid-west, you know that the vehicles of choice tend to be pickup trucks, SUVs, big domestic sedans, or, well, pickup trucks. Let's just say that there is plenty of space in the phonebooth where the local chapter of the Prius car club hold their monthly meetings.
Bracketed between the more worldly-in-flavour Detroit and Geneva shows, it's no surprise the Chicago event focuses on what American mid-westerners drive. Amongst such gargantuan vehicles unveiled at this year's show as the Dodge Mega Cab, and the International RX (and conveniently ignoring the covey of new Mercurys that will not be sold in Canada) I was able to find at least six vehicles that a car zealot might find fun to drive:
Honda Civic Si concept (photo: Honda)

Honda Civic Si concept
Giving something for Civic Nation to look forward to, Honda attempts to get back into the now crowded rice rocket segment it virtually created--and then walked away from. Honda has finally performed the no-brainer of dropping in the 200-hp DOHC i-VTEC four-banger from the existing Acura RSX S-Type. There was no interior on the concept, but the exterior look is sharp, modern and aggressive--everything the last two generations of Civics have been sorely lacking. Expect a four-door sedan and, eventually, a five-door hatch/wagon of some kind
Future competitors:
Acura RSX S-Type, Chevrolet Cobalt SS, MINI Cooper S, Nissan Azeal, Saturn Ion Quad Red Line, Coupe
When can you buy it?:
Fall 2005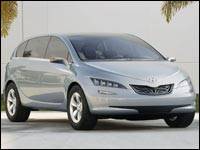 Hyundai Portico (photo: Hyundai)

Hyundai Portico
Like some European mini-minivans, the Portico has two rows of three seats that are staggered, giving more room for passengers and cargo. You can forget about the PR-friendly hybrid powertrain, but the six-speed slushbox will pop up in future Hyundais. This segment is ready to be the next "big thing". Large SUV owners have migrated to mid-sized sport wagons, so watch for cute-ute owners move to these smaller tall wagons like fat kids to Smarties
Future competitors:
Mazda5, Subaru B9 Tribeca
When can you buy it?:
Fall 2006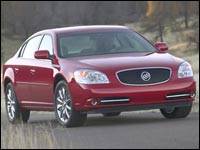 2006 Buick Lucerne (photo: General Motors)

2006 Buick Lucerne
With LeSabre sales down over 20 per cent during the last three years, Buick is counting on more than a few American mid-westerners to fall in love with this replacement. Targeting luxury brands such as Mercedes and Lexus, Buick is laying on the features with Magnetic Ride Control, six standard airbags, and an optional 275-hp 4.6-litre vee-eight. Classic Buick styling pastiches such as chromed portholes and a fish-mouth front grille are applied to a chiseled body that from the rear looks like VW's new '06 Passat, and from the front, like Infiniti's Q45. If you can't beat 'em...
Future competitors:
Acura TL, Chrysler 300, Hyundai XG350, Infiniti M, Lexus ES 330, Toyota Avalon
When can you buy it?:
Fall 2005