The Portico Features Hyundai's Upcoming Hybrid Drivetrain
There are few automotive segments left for Hyundai to enter, now that its SUV lineup is filling out with the addition of the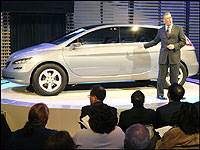 If Hyundai brings anything close to its new Portico concept to life, the minivan segment will never be the same. (Photo: Hyundai Auto Canada)
new compact Tucson and expectation rising for a larger 7-passenger replacement for the Santa Fe.
Its passenger car arsenal is up to five models now, leaving only the introduction of a pickup truck, something the automaker has been talking about for years now, and a minivan.
If Hyundai brings anything close to its new Portico concept to life, the minivan segment will never be the same. The new van, expected to share general architecture with Kia's next-generation Sedona (see automotive news for Feb 5, 2005: New Kia Sedona to Debut at Chicago Auto Show), will need to stand out in order to pull dedicated Dodge Caravan, Honda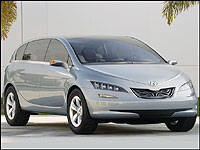 The Portico debuts a completely new design language for Hyundai. (Photo: Hyundai Auto Canada)
Odyssey and Toyota Sienna buyers away from their trusted family haulers.
The Portico would without doubt raise the eyebrows of all in its sightlines, its sleek, sporty lines making the minivan popular even among teens. Of course, this might be because Hyundai's latest concept is not truly a minivan. At least, it's missing some key minivan characteristics, such as sliding side doors, seating for seven or eight instead of six, and, as if I need to say it again, boring styling.
The Portico, introduced on February 9th, at the Chicago Auto Show, debuts a completely new design language for Hyundai.