Having made its debut at the 2004 Geneva auto Shoe, the Roadster sports the same all-wheel-drive drivetrain, including the 6.2L V12 engine, as the coupe. The overall dimensions are identical to the Coupe. The headrest are streamlined with the engine cover and that flow with the moveable engine vents. Lamborghini recommends that the Roadster not be driven above 160 km/h with the roof in place. The car can sprint to 100 km/h in an impressively low 3.8 seconds.
Price: Has not been announced
Availability: Has not been announced
Auto123.com's impressions:
Take a Murcielago, chop off the roof. What do you get? A surcharge of $60,000 (check) and a limit on how fast you can drive it with the roof on. Sounds like a good deal.
2005 Lamborghini Murcielago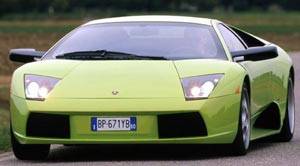 2005 Lamborghini Murcielago