A Rolling Lab of Advanced Technology
Following a naming scheme that has Ford beginning each new vehicle designation with an "F", except for classic models such as the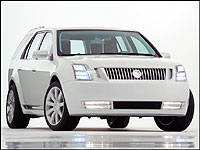 Currently the Meta One is merely a concept, but something similar will most likely become Mercury's first crossover SUV. (Photo: Ford Motor Company of Canada)
Mustang, Mercury now offers the Mountaineer, Monterey, Mariner, Montego, upcoming Milan, and now, the Meta.
In actuality the Meta, or more precisely the Meta One, is merely a concept, but it will most likely be the name the upscale Ford division uses to go to market with its Ford Freestyle based crossover utility.
Why does the name matter? Well, in the case of the Meta, its Greek translation means "transcends" or "goes beyond," which is an ideal designation for such a technologically advanced vehicle.
North American International Auto Show-goers in Detroit will be able to see the Meta One in the metal next week, although official photos of this concept have been floating around the internet for almost a month.
It's Mercury's first concept car since the racy Messenger of 2003 (see Concept archives for 2003 Mercury Messenger Concept); a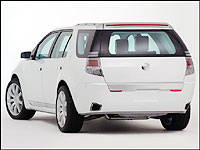 The Meta One is Mercury's first concept car since the racy Messenger of 2003. (Photo: Ford Motor Company of Canada)
car that lured people to Mercury's auto show stands for its dramatic styling and raw power.
The Meta One, on the other hand, is more of a scientific research vehicle, aimed at attracting show-goers on a cerebral level by promoting new methods of propulsion, such as the world's first use of a Partial Zero Emissions Vehicle (PZEV) diesel-hybrid powertrain, personal electronics such as a smarter navigation system, integrated personal organizer and reconfigurable displays, as well as active and passive safety advancements.