New Paint Scheme Highlights GT Design Elements
Ford has a lot of reasons to be proud of its GT40 race car, a vehicle that swept the competition off its feet and won the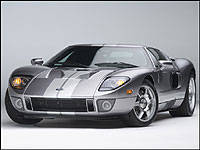 SVT drew on the original GT40's uncompromising performance for the modern interpretation. (Photo: Ford Motor Company of Canada)
prestigious 24 Hours of Le Mans four years in a row, from 1966 through 1969. The most impressive victory was the 1-2-3 sweep in the 1966 event, which started the four-year winning streak. To celebrate 35 years later, Ford unveiled a limited-run reincarnation of its all-conquering machine, the retro-shape GT supercar.
While the construction and engineering of yesteryear's machines were farmed out to various entities in the racing industry, Ford's 21st century interpretation was put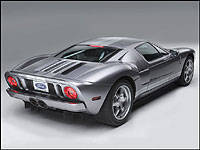 The turnaround time for the GT project, from concept to production road car, was just fifteen months. (Photo: Ford Motor Company of Canada)
together by the firm's in-house speed shop, the Special Vehicles Team (SVT). With just under four decades separating the two vehicles, SVT drew on the original's uncompromising performance, but also on the team's own performance machines, which include the SVT Mustang, SVT F-150 Lightning, and the SVT Focus just to name a few.
Announced as a concept in 2002, the GT was ushered into production by CEO and President Bill Ford for the company's Centennial celebration. The turnaround time for the project, from concept to production road car, would be just fifteen months.